Get to Greyline Brewing Company
Hang on for a minute...we're trying to find some more stories you might like.
Hi y'all, it's Nolan again! Continuing our journey through the kitchens within Michigan's breweries, let me take you to another hidden gem located right on the West Side. Here's your look into Greyline Brewing Company.
In a small industrial building on the corner of Alpine and Sylvia, Greyline looks very modern. Dark grey walls, large mirrors for lots of natural light, and rough cut community tables pair nicely with the large silver air vents that stretch across the ceiling. There's not much seating and only a small bar in the corner, but the staff is very chill and offer great suggestions for the food, which is the real reason why us foodies go to restaurants in the first place.
The menu is focused on smaller dishes since the kitchen is a 7' by 7' box next to the back door, but that doesn't make the quality of the food poorer. The chef is dishing out brisket nachos, deviled eggs, and pickle wraps for appetizers, and I personally tried the eggs. They were more mustardy and peppery than what I'm used to, but that wasn't a problem because they were very delicious. And, if you're interested in the pickle wraps, they use beer cheese instead of cream cheese, a pretty unique choice that the waiter said: "really works, man!" Everything is made with a twist, and it works very well for Greyline.
For your lunch or dinner dish, Greyline offers choices between salads and soups, sandwiches, tacos, and pasta. That's a pretty diverse menu, but I guarantee that everything is good because I've never had bad food from here. The soup changes daily, and I've had the broccoli cheese and cheesy ham. They were both salty and rich, perfect for a cold winter day.
I would also recommend two very different lunches, the Jive Turkey Sandwich and the Goulash. Filled with warm carved turkey, colby jack, and chipotle mayo, the Jive is so satisfying that I went back and got the sandwich again three days after the first time. Most of their sandwiches are packed with flavor, so you won't go wrong if you choose another one like the ham and goat cheese, nicknamed A Pig and Goat. But, if you want a West Side staple, I'd try the Goulash. A familiar pasta dish in polish houses, Goulash is a hearty bowl of pasta mixed with ground beef, tomatoes, and spices. Simple yet flavorful, the recipe is true to tradition and nostalgic towards those nice home cooked meals you had as a child. As my famous colleague, Guy Fieri would say, "That is gangster."
Modern flair, good food, and nice staff. Greyline Brewing is doing things right on the West Side, and it's a fun spot for food with your friends. Next time, we'll be heading to Two Guys Brewing Company, a newer Brew Pub that's right in Wyoming's backyard. I'll talk to you then. Food  & Brews, signing out.
About the Writer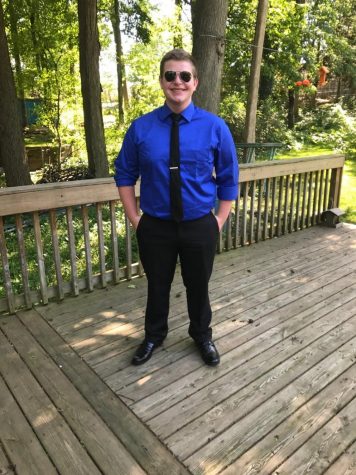 Nolan Weatherby, Sports Editor
Hey everyone, I'm Nolan! Many of you may know me as Nolander, Ranger Nolan, Weatherby, or a plethora of other nicknames given to me by the students and...