The Notorious Ted Bundy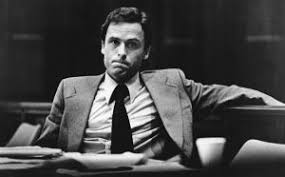 Hang on for a minute...we're trying to find some more stories you might like.
Six women, all missing within the span of six months, later to be found brutally murdered and raped. The search was on for the killer, only having evidence that he was "an attractive young man" who went by the name of "Ted" and drove a brown Volkswagen beetle.
Theodore Bundy, also known as "Ted", grew up in Vermont. His grandparents took him in as their own because his real mother, Eleanor Louise Cowell, had Ted before marriage and at a very young age. Due to this, he believed his mother to be his sister for most of his childhood. Eventually he found out the truth at five years old when his mother fled with Ted to live with cousins to Tacoma, Washington after his grandpa began to beat them. There, Eleanor met Johnnie Bundy, a hospital cook. They married and Johnnie adopted Ted and gave him his last name. Little else is known about his childhood.
Bundy graduated in 1965, spending a year at the University of Puget Sound before transferring to the University of Washington. There, he assaulted student and dancer at the University of Washington, Karen Sparks. Bundy beat her unconscious with a metal rod, then used the rod to sexually assault her with. She was left in a 10-day coma and with permanent disabilities. January of 1974 was the disappearances began to happen. Bundy's first confirmed murder was another UW student, Linda Ann Healy. This attack was similar to Karen Sparks, but a month apart from hers. Bundy broke into Healy's home in the early morning and knocked her unconscious. From there, he clothed her entire body and carried her out to his car. She was never seen again until detectives found her skull years later in a location where Bundy dumped other victims bodies.
After this first murder, Bundy continued to target other female students within the area. It was found that Bundy used a specific technique to lure in his victims. He would approach women with a fake cast on making it appear as he was disabled, and would ask if they could help him put something in his car. Once he lured them into his trap, he would bludgeon them until they were unconscious. Then he would proceed to bind, rape, then kill them. After he was finished he would dump their bodies into a remote location within the woods. It is said that he would often revisit these locations to have sex the decaying bodies. In some cases, he would even go as far as decapitating his victims and keep their skulls in his apartment.
Within the next five months, Bundy abducted and murdered five other females. They all were college students that lived in the Pacific Northwest. The names of the other victims are Donna Gail Manson, Susan Elaine Rancourt, Roberta Kathleen Parks, Brenda Carol Ball, and Georgann Hawkins. Over time bodies began to be discovered in the woods, and there was more witnesses coming forward to provide a description of the killer. Police began to build more evidence against him. Finally on August in 1975, Bundy was pulled over driving a different car other than his beetle through a Salt City suburb. When his vehicle was searched, officers found masks, handcuffs, and blunt objects. This was not enough evidence for officers so they had to put him under surveillance instead of arresting him. Officers found his old car that he sold and discovered hair matching three victims. With this important evidence, he was convicted of kidnapping and assault. From there he was sent to prison and officers began to build a murder case against him.
Bundy was not going down without a fight. When he was first arrested, he escaped from the law library at the courthouse in Aspen. When he was unshackled, he jumped out of the library's second-floor window. After hitting the ground, he disappeared into the trees before the guards came to check on him. While on the run, he made his way toward Aspen Mountain where there he broke into a house for resources and stole a car. He was not too sneaky, as his risky driving caused police to pull him over. He was taken back into custody after 6 days of being on the run. In his second attempt to escape, he mapped out the jail and realized that his cell was right beneath the room of the prison's chief jailer, only being separated by a small crawl space. Seeing a chance of freedom, Bundy traded with an inmate for a hacksaw where he began scraping away at the plaster. The crawl space was very small. In order to fit Bundy cut down on meals to lose weight. Bundy planned ahead this time, saving money that he received from Carole Ann Boone, the woman who would later marry Bundy in prison. Bundy finished by scraping the hole up into the jailers' room, where he traded his prison clothes for normal outsider clothing. He strolled out the front door and made his way to Florida.
Two weeks after he escaped, he broke into a Chi Omega sorority house and the Florida State University campus. In the 15 minutes he was there, he killed Margaret Bowman and Lisa Levy. He strangled them with their stockings and bludgeoned them with firewood before sexually assaulting them. He then proceeded to attack Kathy Kleiner and Karen Chandler, leaving them with broken jaws and missing teeth. After this, he left and broke into an apartment that a lady named Cheryl Thompson lived in. He beat her so badly that she suffered from permanent hearing loss. He was not immediately caught yet after these assaults, as he was still on the run. These ladies were not the last victims, as sadly on February 8th Bundy abducted twelve-year-old Kimberly Diane Leach from her middle school. He hid her body on a pig farm. Bundy was soon caught, as his hazardous driving caught the police attention. When stopped, they saw that the plates on the car he was driving belonged to a stolen car and discovered three ID's of dead women in the car. Because of these discoveries, he was immediately linked with the FSU crimes. Bundy began to fight, causing the officer to shoot his revolver. After Bundy was restrained and knew he was caught, he said "I wish you had killed me" to the arresting officer.
Bundy was charged and put on trial. He was convicted then placed on death row at Florida's Raiford Prison. He confessed to many murders, but nobody knows truly how many he had murdered. There were some that he denied even though there was physical evidence tying him to the crimes. Authorities believe that Bundy overall killed 30 to 40 women. This makes him possibly one of America's most notorious killers.