Senior Basketball Players Reflect on a Great Season.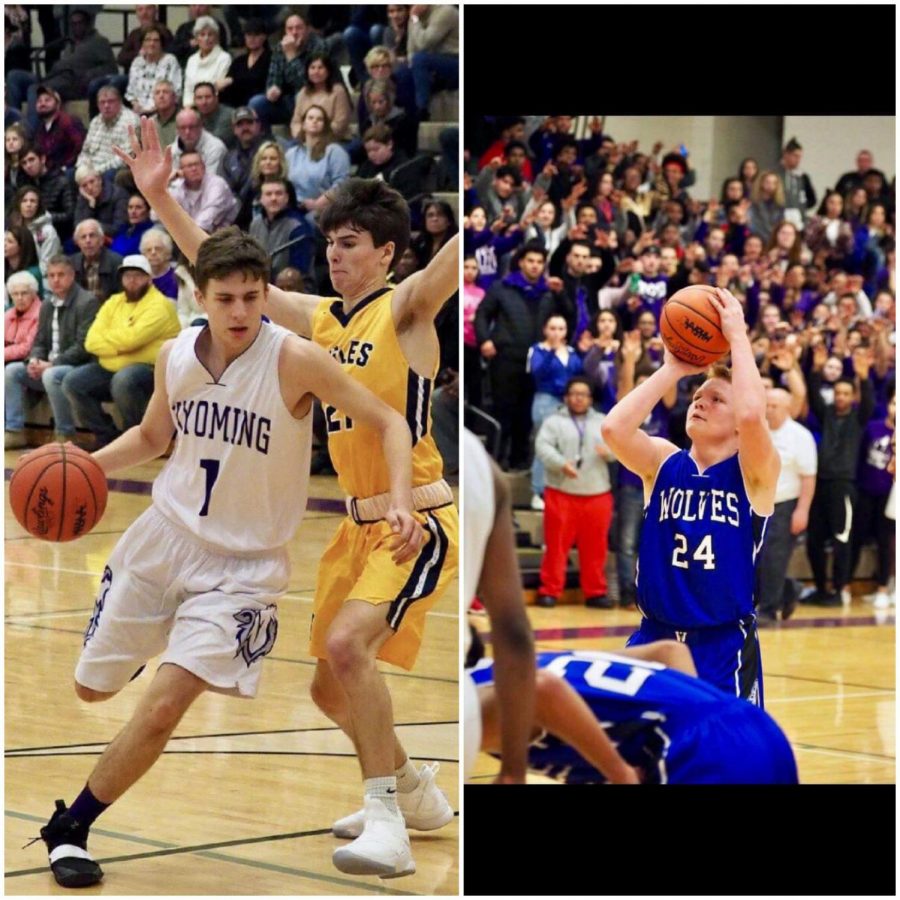 Kayla Hinton, Contributing Writer
March 7, 2019
"I was a little sad when Senior Night came, and the season was coming to an end. It went by in a blink of an eye," says senior basketball player Zachary Fry.
As the basketball season is finishing, up it finally is finally hitting the players that it's senior year "It's hard to think it is my last year playing," says Fry. "It will be difficult to get over the fact that it's over." Payton Stark, a senior on the team with Fry, says, "I feel extremely sad about, as it's the last time I will play on a school level team."
Both Fry and Stark have been a part of the Wyoming Basketball program for years. Zachary says, "My favorite high school memory was going to all the basketball games since I was a little kid and then being able to play on that same floor when I got to high school."
Being a part of a community is something that nobody can take away from these players. Payton says, "I will have to take a moment and reflect on my lifetime of memories, as I have played since the third grade and it's hard to walk away."
Going into the last season of high school, Zachary looked to take on a new role."I stepped up to a big role from last year to this year and had to take some leadership," says Fry.
Zachary has worked extremely hard in the previous summer, so he is able to take on that bigger role. "All the time I put in finally felt like it paid off," says Fry."My favorite memory is starting the first game of the season."
Things didn't go as planned as the team was "looking forward to winning the first districts in Wyoming history," says Fry. However, the Wyoming community was very satisfied with the efforts of the team this year. "They had a great season and they were always fun to watch," says Mr. Cornell.
Zachary and Payton are proud of how far their team as come from the start of season all the way to the end. "Our team had some struggles this year but we overcome those problems and became a different team," says Fry."I'm very satisfied with the way I played this year and the way my team played." Payton adds, "The last two weeks we have really clicked and made strides in the right direction."
The moments and memories are something that nobody can take away from these seniors. "I have created memories that will last a lifetime and meet unique people I would never have met without playing," says Stark. "I am definitely going to miss playing games with a large crowd and vibrant atmosphere, as you can't create those moments out of thin air."
Most people looking in would assume that the best times are the games, but for Fry it's more than playing games. "I'm going to miss practices and bus rides with all my teammates," says Fry.
Basketball season isn't the only thing coming to an end for these players. As the realization that graduation is slowly approaching they take a look back on high school. "I will miss high school because I have met so many wonderful people and have experienced unforgettable memories," says Payton. "Also I will never be this young and able to have as much fun as I had in high school."
Even though it may seem like everything is coming to an end Zachary is looking to what the future holds. "I'm going to miss high school a little because of all my friends and the good times we had in school," says Zachary. "But I can't wait to go on to college and start a whole new life."
After graduation, some players will not remember that one game they lost or their record years to come, they will remember the people and the relationships. "I'm going to miss the relationships that I built with my teammates over the past couple of years," says Zachary. The team that they worked hard and cried with will be what stays with them years after. "I'm going to miss seeing my teammates every day after school and building bonds with them," says Payton.
Basketball and high school may come to an end, but these two seniors have a bright future as they both are very hard workers. The future holds many different possibilities and exploring them is part of being an "adult" as they would say.