The Mystery Man In The Mink: Who Is Big Boi?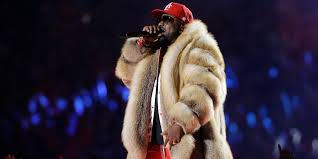 Hang on for a minute...we're trying to find some more stories you might like.
The Super Bowl halftime show didn't exactly blow anyone away, despite being headlined by one of the most popular groups in the world, one of the most popular rappers of our generation, and Big Boi.
But who exactly is Big Boi?
Antwan Andre Patton, the large man in the expensive mink coat that waddled across your TV screen singing a song you may have never heard, is actually one of the best selling artists of the 90s. He's also one of the elite few artists who can claim they have a diamond-certified album.
Big Boi's most popular works were released while he was working with Andre 3000, another very popular artist from the 90s, under the group name Outkast. Together the Atlanta rap duo released five of the best, most experimental, creative, prolific rap albums of their time, the most popular of which ("Speakerboxxx/The Love Below").
The man in the mink also went on to have a successful solo career in the late 2000s, releasing three solo albums to largely positive reviews and sales.
Big Boi is an Atlanta legend because of the work he did as a member of Outkast. His lyrically impressive and instrumentally left-field music largely paved the way for the numerous Atlanta artists that are on top of hip-hop today. Considering the 2019 Super Bowl was in Atlanta, his performance (which looked a little out of place otherwise) actually made a lot of sense, given his stature as one of the most important artists to ever come out of Atlanta.