Outdated or Niche? Here's Why People are Buying Vinyl Again
Hang on for a minute...we're trying to find some more stories you might like.
In an age defined by efficiency and convenience, the previously outdated vinyl is making an unforeseen return to prominence.
Around the end of 2006, the music industry was met with an interesting development. The sales numbers of vinyl records have gone up for the first time since 1998: a shocking change of pace given the prominence of the relatively new CD. In the 12 full years since, that upward trend has only continued on, with sales in the US alone ballooning up from a measly 900,000 units to over 4.6 million in just 2012.
This rather sudden increase in vinyl sales left many wondering what exactly makes this old platform so popular. After a couple of short interviews with people who own record players and vinyl records, as well as through my own personal experience, I believe I've found some semblance of an answer.
Everyone's answer, at the core, revolves around the feeling that accompanies actually owning music. Some cited the album artwork as personally appealing to them, others preferred the treasure hunt for hidden gold at small record shops around Wyoming. But, at the center of everyone's response to being asked what their favorite thing about owning vinyl was, there was common ground.
"That iconic sound the needle makes when you put it on the record. The sound quality is just… Better"
"The warm, fuzzy static crackle that the record makes as you're listening to it. The whole experience is more intimate"
"The whole aesthetic of vinyl is really cool to me. Not to mention the sound quality helps make it easier to really dive into the music"
Whether or not the sound is better is up to the listener. Some prefer it, some don't, so it's hard to refer to it as an all-around positive. The sound quality isn't the only reason people choose to indulge in this niche hobby, however. It can be as cheap (or expensive) as you want. There are small record stores all around not only this part of Michigan, but the whole country that sells used records for anywhere from $20 to 50 cents: all you have to do is a little digging.
Once you own a record, there's also a stronger sense of connection to whatever you decide to spend your money on. You physically own the music, not just the right to listen to it. In the words of someone who owns "The whole experience of purchasing a specific album, listening to your own personal copy, and reading song lyrics along with the songs really makes you feel closer to the artist".
Should you so choose, they make pretty nice decorations too.
There are a plethora of reasons to own vinyl. The experience of finding them, listening to the records, and owning the music are just a few reasons to.
About the Writer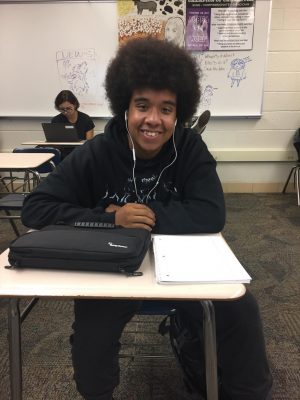 Devin Jones, Entertainment Editor
I don't really know where to start, so I guess I'll just jump in.

Hey, my name is Devin. I like to read, write, play video games and watch movies....