Great, Humble, and FUNNY! Meet Mr. Lorenz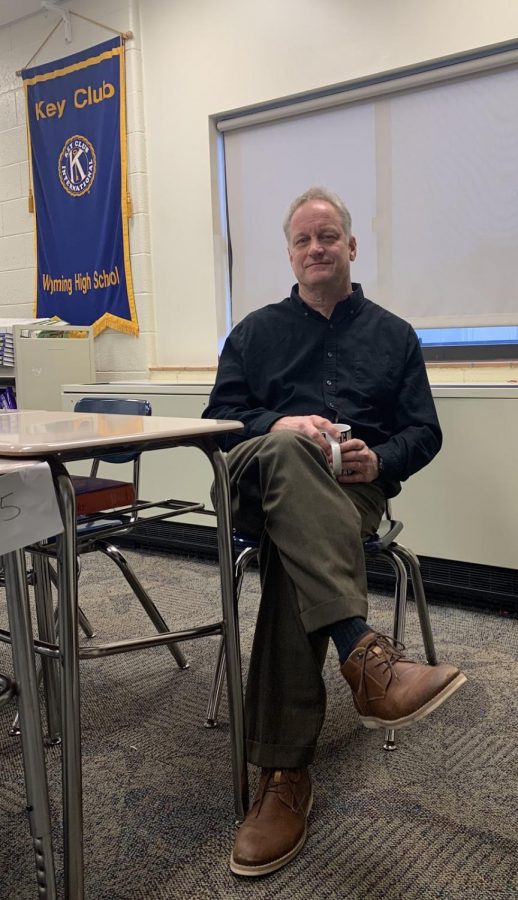 Hang on for a minute...we're trying to find some more stories you might like.
Being a teacher day after day, year after year, especially with high school students can be a tedious task. It may seem there are days where teachers just go through the motions, but for this AP LIT teacher he seems to find it enjoyable and has his students learning in a fun and funny way.
In his classroom, he not only works to teach his students, but he also works towards making class fun and bringing laughter out of his students. "He's a wacky dude but he's cool,"  said Brandon Walker.
Students just absolutely love his class, but also love him, as a teacher but also as a person.
"I love him. He's great, he's a chill, funny, cool guy and I thoroughly enjoy his class," said Tyler Greenrose.
Students seem to really love and enjoy Lorenz's class because he conveys his class through the power of humor. One student put it this way, "I think he's really cool because he connects with students and uses humor and so the material is really enjoyable. He takes his students into consideration," said Daniela Ortega.  
He has been teaching for 28 years at the Wyoming district and four years previous to that. 32 years is a pretty long time! He has a very positive outlook for his career, his students, and his district.
"I love the Wyoming District because of the good support from administration and amazing kids and their parents," he said. "The parents are supportive and I love the diversity, one of the few places in the world."
He's always up to help students, and be there for them in many ways. In the interview I did with him, I entered his room and asked his some very basic questions such as "what's your favorite color…. Why? What's your favorite food… Why?" and he simplified smiled and answered my basic questions."Steak because of the taste and it's just I like the protein…. Blue, no idea why," said Lorenz.
Above all he finds a lot of time and is always proud of his student in Key Club. He is the administrator and the adult in charge but always wants to teach his students more and allows this to be a student lead club more than anything.
"Key Club is awesome this year great officers who are managing everything and being really positive and responsibly and awesome role models," said Lorenz.
Even one of his favorite memories from this school year is going to Holland State Park with Key Club members, where it was a fun day picking up the beach. "The kids were great and I just like to show off our student body to people," he said.
Mr. Lorenz is a great and humble person who believes in people and pushes them because he knows they can, such as when Cornell was his student teacher back in the day.
"He was great," he said. "He just needed a little encouragement because he didn't know how good he was so I left the room and he nailed it! Just a natural born teacher," said Lorenz.
When it came to ask him, "So what's your favorite class this year?"
He said, "None, I don't play favorites."
If you ever catch yourself in a problem, want a teacher to be honest and kind, if you simply want to join a great club with a great teacher, or even if you want to meet a great, caring, and funny man, head down to Mr. Lorenz's room.