The Insane Obsession that Lies Ahead- ¨You¨ Review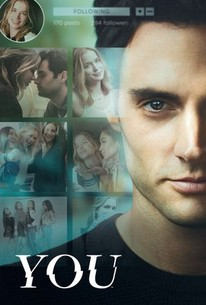 Hang on for a minute...we're trying to find some more stories you might like.
How far would you go for someone you love? For Joe Goldberg, he would do anything for Guinevere Beck, nicknamed Beck, an aspiring writer he met at his bookstore. Over time, the small crush he has for her developed into something more than just love, but an obsession. With the use of social media and the internet, Joe stalks Beck, in ways such as secretly viewing her texts saved in her iCloud, following her around the city, and even watching her outside her home through her window. In order to protect their relationship, he dares to go to extreme lengths to remove individuals who stand in the way of their happiness.
Based on the novel, the TV show You was released December 26th last year, originally on the Lifetime Network before being released on Netflix. The first season contained 10 episodes, all of which usually last around 40-45 minutes. Many details help make the show interesting and keeping the viewer locked in, specifically the acting. Elizabeth Lail played Beck, the aspiring writer, but also scandalous character in the show. I believe that her acting was very spot in each episode. The emotions expressed during the exciting times, scary times, and just normal moments were all very believable. I would have to say that the last three episodes were where her acting was at its peak. I don't want to spoil anything for anyone who is thinking about watching, but all I can say is that emotion she expressed, specifically facially, was spot on and made the end of the season a whole lot better.
As for Joe, played by Penn Badgley, he also did a great job. His character had a sinister, mysterious vibe to him, but also had that loving, compassionate side when he's in front of the public. He's also very intelligent. He premeditates everything he does and comes up with solutions and theories whenever he is stuck in a predicament to get himself out of trouble. The attitude he has every episode and the way he reacts to everything seems so realistic and believable, almost as if he really embodies the character. Because of this form both individuals, I always found myself watching the next episode without hesitation, never losing my interest.
The setting of the show also helped give the film a mysterious feel. Everything took place in New York City, although they only included a small area. The main focus was the neighborhood, not the entire city itself. This gave the feeling so secludedness and helped to keep all the characters together in one specific area. I noticed that the color of the scenes depended on what was going on at the moment. Happier times would be bright and sunny as suspenseful moments were usually it with a bright fluorescent filter, making it seem very washed away. I believe that these color changes were a great choice from the director as it helped visually affect the viewer, making them experience every emotion more vividly.
Overall I believe this show was exceptional. The plot was very interesting, as it was full of mystery and suspense. The second season may be released July of this year on Lifetime Network, but should be released a little later on Netflix. So, stay tuned for more drama, love, and of course, the insane obsession that lies ahead.
About the Writer
Zariana Salas, Contributing Writer
Hi, my name is Zariana. There's really not too much to know about me besides that I'm a Senior here at Wyoming High School and have been in Journalism...