Math, Food, and Family: A Profile of Mr. Retan
Hang on for a minute...we're trying to find some more stories you might like.
Math. It needs no introduction.
Unfortunately, it gets a bad rap from most people because it's "too hard," but there's someone in our high school that wants to change this idea. Located in the math hall, which many inspirational quotes around his door, is the man, Mr. Retan! If you choose to walk through that door, you will find all your desired answers, along with sneak peek of what kind of a person he really is.
After being in the Wyoming District for almost 21 years, Mr. Retan has gone through many groups of students that didn't think of math as fun. He honestly had the same mindset too in the beginning, but in college he "fell in love with helping people find that math is cool," which has been great motivation to continue in the career of teaching. "Teaching is so rewarding," Mr. Retan said, "getting to know my students on a deeper level than math" is really why he continues to come to school everyday, and students who've had him agree that this is the reason that learning math is so easy in his classroom. Mr. Retan cares on a higher level than teachers from other schools, and it makes him stand out in more ways than one.
This same set of qualities ultimately comes from his outside life, where Mr. Retan's family is everything. This motivator, including his wife, four children and a grandchild, is "the most important thing everyday," which actually benefits from his job as a teacher. "I get to spend quality time after school with my kids," Mr. Retan said, and the big smile on his face showed just how true the statement was. Behind his desk, multiple pictures and homemade pictures from his kids take up the wall space, and they make the classroom feel homey and welcome. It's the perfect place to feel at ease and learn something. New.
Mr. Retan really is the man. He teaches the upcoming generations to better understand math. He treats each student with the same care as he would his own kids. And, Mr. Retan is an avid chef when he's at home! If you're genuine, understanding, and a cook, most anyone will like you and that's completely true for Mr. Retan. He's kept classroom fun over the years, and will continue to do so for Wyoming at the new building in a couple years, which he can't wait for. Or in his own words, "It will continue to be a thrill."
About the Writer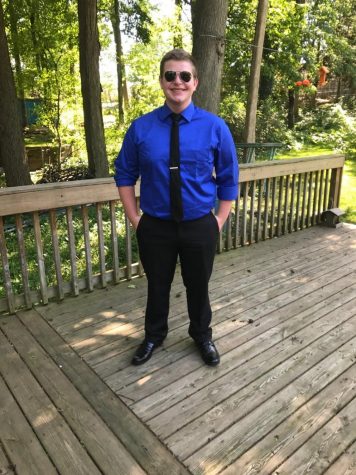 Nolan Weatherby, Sports Editor
Hey everyone, I'm Nolan! Many of you may know me as Nolander, Ranger Nolan, Weatherby, or a plethora of other nicknames given to me by the students and...