Did you Fall this Morning?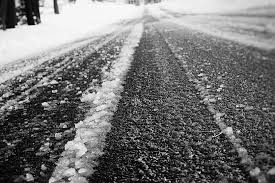 Hang on for a minute...we're trying to find some more stories you might like.
In a rush out the door, looking at the time with only five minutes before you realize you'll be late to school. Put the shoes on and run to the door, rush out and BAM! You fall down the steps right on your bum.
Although this may sound like a funny cartoon story it was what some students who attend Wyoming High School experienced Tuesday, January 15, 2019. The icy streets and sidewalks made it nearly impossible to be able to walk even a short distance to a car.
Even the schools parking lot and sidewalk were difficult to walk on without slipping, and it wasn't until 7:17 a.m. that staff members began to throw salt. Yet for some students, the ice had no impact at all. "I didn't even notice the ice," said  Aliyah Rivera.
For most students, however, the walk, drive, or even the bus ride was a bit of a struggle, especially with the fear of falling. Some were more concerned than others. "I almost fell," said Devin Jones.
Others took necessary precautions. "I took the grass instead of the sidewalk.  I didn't feel like falling," said Camila Maldonado Pena.
For our students who drive to school had it pretty rough this morning. A mixture of high school teens and icy roads before 8:00 a.m.was not a good combination. "I was sliding, and it's a 30-minute drive," Ysabel Lopez.
"My driver window, the one in the front, I didn't have time to clean it off, and so I was looking out the driver's side window to see," Ramantu Kanneh.