It's That Time of the Year: The Road to the Super Bowl
Hang on for a minute...we're trying to find some more stories you might like.
The Vince Lombardi Trophy. A silver football on a pedestal that's worth more than money. 32 teams from around the country battle each other for five months just to get a chance at being considered for the big game. But, the Super Bowl can only have one winner.
This year, most fans are in for great playoff games as 7 of the teams were not here in 2018. The Patriots, Chiefs, Rams, Eagles, and Saints are back again to try and win it all, but now you can also cheer for the Colts, Texans, Chargers, Ravens, Seahawks, Cowboys, and the Bears. The matchups are going to be very interesting and fun to watch!
Wild Card Weekend was the first 4 games of the postseason, for the teams that just made it into the playoffs. In the AFC, the Colts blew out the Texans who were at home on Saturday, and the Chargers defeated a lackluster band of Ravens on Sunday. In the NFC, the Seahawks lost to the Cowboys by two points on Saturday while the Eagles won by a point against the Bears on Sunday. They were all great games and made plenty of people either quite happy or completely devastated.
Now, many people are already making predictions for who's going all the way to the final game. After asking multiple people at this high school, it was clear that two teams stood out the most. Mr. Cornell was the main advocate for the Patriots versus the Saints in the Super Bowl, since he "wants to see the Patriots get blown out" so he's happy, and a plethora of students believe in the same outcome. The Saints were the only team from the NFC that was mentioned for the game, but the AFC was a little more controversial. Trevor Blower believes that the Chiefs will be the ones to conquer every other AFC team, and Quoc Khanh Nguyen with Seth Martin are still rooting for their favorite team, the Chargers. Whoever does make it from each conference will play in the game of the season, that much is for sure.
It's time to get out your jersey. It's time to lay the football-shaped bowls filled with dip on the table. It's time to get rowdy for the Super Bowl! February 3rd is less than a month away, so get ready to watch to the game of the year with your friends and family!
About the Writer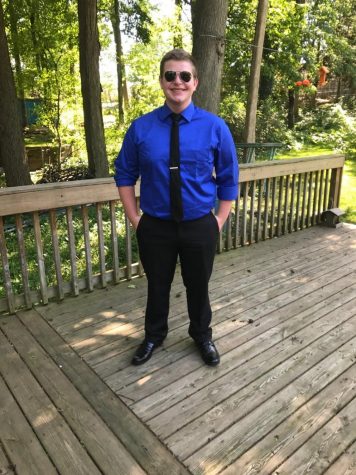 Nolan Weatherby, Sports Editor
Hey everyone, I'm Nolan! Many of you may know me as Nolander, Ranger Nolan, Weatherby, or a plethora of other nicknames given to me by the students and...