Congratulations to Our New Alpha Wolves!
Hang on for a minute...we're trying to find some more stories you might like.
December 7th was the day for these students. Wyoming High School was happy to announce their Fall 2018 Alpha Wolf recipients. Students, staff, and faculty came together with such love to honor these students for their character.
Here are the responses of how are new Alpha Wolf winners feel about their moment.
Ana Salvador, 10th Grade Alpha Wolf Recipient:
–What was it like to have your name called out and find out that you won?
"My heart dropped, I was shaking, everything seemed to pause for a moment. It felt like those scenes in the movies where everything is in slow motion and silent, it was amazing."
-What is the one thing you will remember from this day a year from now?
"I will remember the amount of love I felt on the day I received this award, from family, classmates, and teachers."
-How do you feel now that you have this award?
"I feel emotionally elevated and kind of soft inside, I'm excited that the other recipients and I got to share the same beautiful experience. I am also really glad this program is in our school am enthusiastic for the future Alpha Wolf Award winners. :)"
Sawyer VanDyke, 10th Grade Alpha Wolf Recipient:
"Having my name called out felt like a dream. It felt like the world around me faded as I walked down to see my entire family together waiting. I will remember seeing my family all waiting for me proudly after my name was called. I feel mostly the same as before, yet I can see now all the people who care about me and want me to succeed in life."
Kimburly Burhans, 11th Grade Alpha Wolf Recipient:
"When Mr.Doyle started to read about me it wasn't hard for everyone around me to figure out that he would say my name. As he continued to read the things on the paper, they sunk into me and I just knew more and more as he continued. I started to look around at my friends and they all were recording me I tried to make eye contact with any teachers to see if anyone would give a look at me, but every teacher I saw they all would look the opposite way as they saw my eyes move towards them.
I will definitely never forget how I felt went Mr.Doyle said my name and all my friends jumped up, screamed, clapped, and hugged me in joy. When he said my name I was afraid my mom or anybody from my mom's family would be there because they live in Big Rapids. When I saw my mom and grandparents my heart was filled with joy! Honestly I feel the same as I did before I won I have always known that I need to do the right thing and make anyone and everyone as happy as they can be! I will continue to work as hard as I can to make everyone as happy as can be! I just hope that other people can see what I do and strive to help others like me!"
Kim Nguyen, 11th Grade Alpha Wolf Recipient:
"[Winning] was really bizarre in the best way possible; I kind of figured out that I was going to win Alpha Wolf when Mr. Doyle was giving out hints and mentioned that I helped make the set for the musical. But even though the logical side of me figured it was going to be me, I still couldn't believe that people thought that I deserve to be an Alpha Wolf. It was really strange to have part of me in disbelief and another part of me was overjoyed that people thought I was someone who positively impacts our community.
I will definitely remember the faces of my friends when they announced my name and how happy my family looked when I saw them, but most of all, I will always treasure the heartwarming feeling of knowing that people voted for me because they believe that I show the characteristics of an Alpha Wolf.  I will be forever grateful that people believe and trust in me.
I feel excited for the future. After getting this award, I feel like I could do anything now and feel that I could further help out my community, and hopefully I would be confident enough to be able to take on more leadership roles to help the place that helped me."
Taina Rodriguez, 12th Grade Alpha Wolf Recipient:
"Hearing my name was great yet so emotional. I knew I was making my family proud. I will definitely remember all that was said from my peers and teachers because that honestly touched my heart. I wasn't aware of how I made others feel and hearing the narrative brought me endless joy and I was showered with happiness. I'm proud to be an 11. I'm glad I am able to represent Wyoming High School. It is such an honor to receive this award!"
Mounahinde Almame, 12th Grade Alpha Wolf Recipient:
"It's was a total surprise for me, I can't explain my feeling right now it's too early to say anything. [Choosing a] memory is really hard to pick one, but I really loved the ceremony of the countries flags, that was amazing, I loved it!"
In response to being asked what is one thing he will remember a year from now he says: "I would say the moment which the students were cheering my name Terry……….even [though] it's not my real name."
About the Writer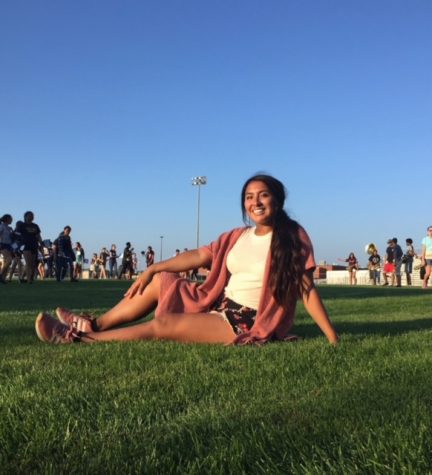 Aliyah Rivera, Cornell's Sidekick aka editor aka layout artist
Hey guys, I'm Aliyah Rivera! If you don't know me personally then you've probably only seen the side of me that can be very loud, outgoing, and extra....