Oklahoma City Thunder Unstoppable Versus Cleveland Cavaliers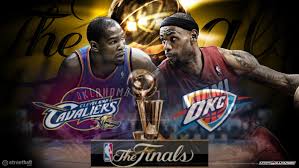 Hang on for a minute...we're trying to find some more stories you might like.
Oklahoma City Thunder looked unstoppable when the Oklahoma City Thunders hosted the Cleveland Cavaliers. The starting lineups for the Thunder were Russell Westbrook at point guard, Alex Abrines at shooting guard, Paul George at small forward, Jerami Grant at power forward, and finally Steven Adams at center. The Cavaliers started rookie Collin Sexton at point guard, Rodney Hood at shooting guard, Cedi Osman at small forward, Larry Nance Jr at power forward, and Tristan Thompson at center. This was a very interesting matchup because Collin plays a little like Russell. He attacks the rim and finishes very well and has a good mid-range jumper.
The first quarter was looking good for the Cavaliers as they were leading 28-21 by the end of the first quarter. The second quarter the Thunders came back scoring 26 and the Cavaliers only scoring 19. By halftime it was tied 47-47, the third quarter was when the Thunder was starting to run away as they scored 26 and the Cavaliers scored 15. The fourth quarter was no different as the Thunder scored 27 and the Cavaliers scored 21. The final score was 100-83, Thunder are now 13-7 and Cleveland is 4-16. The game was tied 8 times and the longest run was 22 and their was 8 lead changes. Thunder out rebounded the Cavaliers 50-43, and had 25 assists compared to 20 by Cleveland. Thunder had great defense with 11 blocks and Cavaliers only having 1. The Thunders shot 47.7% as a team and the Cavaliers shot 39.3% as a team. The 3 point percentage for the Thunder was very poor only shooting 22.2% and the Cavaliers shooting 39.1%. Free throw percentage for OKC was 80 and Cleveland shot 44.4% from the FT line.
Russell Westbrook ties Jason Kidd with 107 triple doubles, it took Kidd 1247 games to get 107 triple doubles while Westbrook only took 760 games to get 107 triple doubles. Here is what Westbrook had to say about this "I am extremely blessed and humbled to be able to go out and play and compete in the NBA. Just to be named with Jason Kidd and Magic and Oscar and those guys, I could have never dreamt about being able to even sit here talking to you guys. I take everything in and never take anything for granted." Westbrook previously won MVP in 2017, averaging a triple double for the entire season and now has moved up on the NBA list for triple doubles. Westbrook is a exciting and amazing player to watch, he is really extraordinary and is a very humble unique player.
Russell Westbrook had his 107th triple-double, tying Jason Kidd. He had 23 points, 19 rebounds, and 15 assists. Paul George had 18 points, 4 rebounds, 4 assist and Jerami Grant had 21 points and 5 rebounds. These were the 3 leading scorers for OKC. For Cleveland Cavaliers, you got Osman was 14 points, 10 rebounds, and 6 assist. Rodney Hood had 12 points, 3 rebounds, and 4 assist. Collin Sexton had 21 points and 10 rebounds and 3 assist against Westbrook. Jordan Clarkson led the team scoring 25 points off the bench. The most minutes played this game was 37 minutes by Westbrook and 39 minutes by Osman.