A Celebration of Character and Diversity: What's in Store for the Sophomore's First Alpha Wolf 11 Assembly
Hang on for a minute...we're trying to find some more stories you might like.
In the winter of 2016, Mr. Doyle brought the Champion of Character program known as Alpha Wolf 11 to Wyoming High School. His inspiration for this program came from when his son was awarded a similar award at Grandville Middle School, and Mr. Doyle thought it would be an amazing idea for our school. And, for these last three years. the Alpha Wolf assemblies have been getting bigger, better, and more Wyoming.
The assembly itself follows the same pattern every time, but the staff does a great job making it interesting.
It starts out with the Wyoming High School Band performing America the Beautiful, under the direction of Jane Detweiler, as a gigantic American Flag is being unfolded. However, for a twist this year, instead of having the students of the U.S. History classes unfolding the flag, the newly organized Wyoming High School Dance Team has been given the opportunity this year.
After the flag is complete unfolded, the Wyoming High School Honors Choir, directed by Mary Alice Miller, sings the National Anthem. Last year the Honors Choir was given the opportunity to sing an additional song, however, with the business of the season, they sadly aren't able to sing a special song.
Next, Principal Robrahn will introduce our Honorary Champions of Character and our Honorary Guest, which has included notable members of our district and our community along with our guest speaker.  
This year's Alpha Wolf theme is diversity and our speaker fits this perfectly. Though he lives in the Grand Rapids area now, he was born in the Democratic Republic of Congo, like four of our current students. Beyond being from the Congo, he is a former graduate of Rogers High School (now known as Wyoming High School).
After his time at the high school, he continued on to Grace Bible College and went onto earn his Doctorate from Western Michigan University and is still working toward his post-doctorate at Harvard and MIT. While he was going through college and enjoying riding vintage motorcycles, playing soccer, and supporting fellow immigrants, he was a Biology, History, and Social Studies teacher and soccer coach at Creston High School, now apart of Grand Rapids Central High School, for seven years starting in 1999.
After getting his Masters degree in K-12 Administration in 2006, he went onto be the Curriculum Supervisor for Social Studies, World Languages, and Advanced Placement Programs in the Grand Rapids Public Schools in 2007.   
His speech will be followed by the main event. Going by grade, the award ceremony switches between the Alpha Wolf award and teacher made student shout out, two of each per grade.
Lastly, time permitting, the always amusing mattress relay. The grade levels fight to the figurative death for the opportunity to face off against the staff and bring glory to their grade until the spring.      
For more information about past years, go to WKTV website or follow this link: https://www.wktvjournal.org/tag/alpha-wolf-11/
About the Writer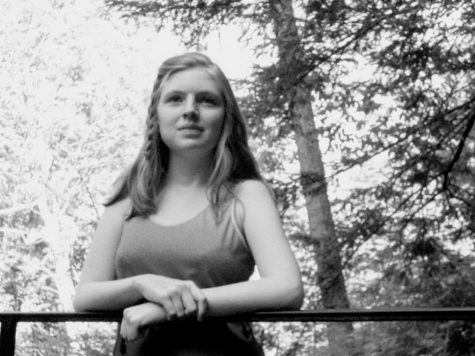 Kira Krieger, Copy Editor
My name is Kira Krieger. I'm a senior and a student of Middle College. I'm an aspiring (novel) writer. I can be cruel with a red pen but the art of...