Catching Up With Alpha Wolf Lauren Gonzalez-Diaz
Hang on for a minute...we're trying to find some more stories you might like.
Lauren Gonzalez-Diaz is now a senior. She won Alpha Wolf in Spring 2017.
WPP: How has winning Alpha Wolf affected your high school experience?
Lauren Gonzalez-Diaz: Winning Alpha Wolf has changed my high school experience in many great ways. I can say that I have gained so much confidence. It was said in my narrative that they read during the assembly that I was reserved and always doing stuff in the background and it was absolutely true. From then to today, I feel as though I'm more open to put myself out there. Winning Alpha Wolf had changed my perspective of not only the way I view myself but other people. Afterward winning, I was more eager than ever to help my community and school in any way possible and spreading positivity was high priority.
WPP: Do you think winning Alpha Wolf has changed the way people treat you and if so how?
Gonzalez-Diaz: Alpha Wolf can sometimes put you in the spotlight. People start to
notice you. People that I have not talked to have approached me and started talking to me and felt comfortable. It's an amazing feeling being able to talk to someone you may know or not and help them with their situation. And it has happened a few times.
WPP: Has winning Alpha Wolf opened up any new opportunities for you and if so, what?
Gonzalez-Diaz: Alpha Wolf has opened opportunities for being accepted into college. For my essay I had wrote about my experience of being honored with being an Alpha Wolf and how it changed my perspective. I have been accepted to some colleges and a reason for my acceptance was being an Alpha Wolf and how it has changed me. One acceptance letter I received had said that they are were intrigued about the Alpha Wolf award and how they were glad that it shaped me to be a better person. I would say that being Alpha Wolf would open more opportunities later in my life.

About the Writer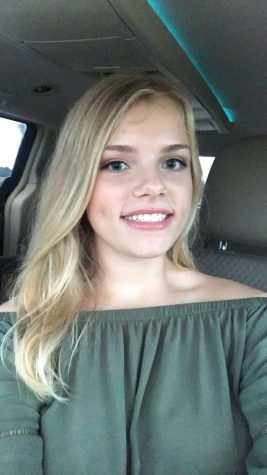 Skylar Gelock, Contributing Writer and Editor
My name is Skylar Gelock and I am supposed to tell you about myself. I don't even know where to begin but I have to do this for a grade so here goes...