Catching Up With Alpha Wolf Avalon Dexter
Hang on for a minute...we're trying to find some more stories you might like.
Avalon Dexter is now a senior. She won Alpha Wolf back in Fall 2016.
WPP: How has winning Alpha Wolf affected your high school experience?
Avalon Dexter: Winning Alpha wolf was amazing. I think it's definitely affected my high school experience, it's showed me that being kind and accepting others for all their differences is so important, and can change not only their life, but yours. You never know what someone has going on behind the scenes and I think that being kind to someone can completely change their view on things and show them that not all things are bad, even though they might be struggling with something at home, school, etc, at least you got to make somewhat of a difference. High school is tough, and if you can make even the slightest difference and make it easier for someone why not do it.
WPP: Do you think winning Alpha Wolf has changed the way people treat you and if so how?
Dexter: I think winning Alpha Wolf has not necessarily changed the way people have treated me, but has been a great way to meet new people and see who's lives I've impacted just by saying hi or giving them a little compliment. I've had other students come up to me and tell me they voted for me and why and it's such a cool thing. I'm not nice for the attention and I wasn't nice to win Alpha Wolf, I just like seeing people happy, even if I'm not doing the best myself, it doesn't mean I can't make someone else happy or put them in a better mood.
WPP: Has winning Alpha Wolf opened up any new opportunities for you and if so, what?
Dexter: Winning Alpha Wolf has opened more opportunities for me, I have been able to meet more people, students and teachers, I have been able to join the leadership groups. But you don't need to win Alpha Wolf to get those opportunities, you just have to be kind, compassionate, and gracious. Just because I was recognized as an Alpha Wolf doesn't mean that there aren't other people in this school who are kind, and leaders, there's so many Alpha Wolves in this school but haven't won the award, and don't need to win it to be an Alpha Wolf.
About the Writer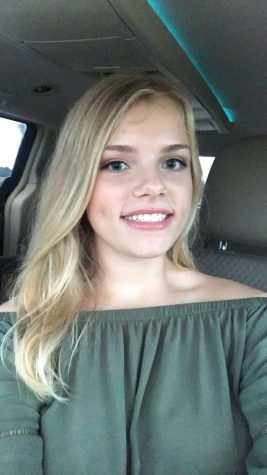 Skylar Gelock, Contributing Writer and Editor
My name is Skylar Gelock and I am supposed to tell you about myself. I don't even know where to begin but I have to do this for a grade so here goes...