Rookie Of The Year
Hang on for a minute...we're trying to find some more stories you might like.
The 2018 NBA draft was full of young potential all-stars and so was the draft before them but today we are talking about the 2018 NBA draft and who I think will be the Rookie of the Year (ROTY) but not without some competition. I will choose three young players who have had really made an impact in college basketball and how they will carry it over to the NBA and became all-stars and who I think will win ROTY out of the three.
The first player I have chosen is the first pick, Deandre Ayton from Arizona. Deandre played 33 minutes per game, grabbing 11 rebounds per game, 2 blocks, and averaging 20 points per game for a center. Ayton is very physical in the post and isn't turning into big men that just shoots threes. He is 7'1 and 250 pounds and already has an NBA body. Deandre Ayton had 18 points and 10 rebounds in his debut in the regular season, making a statement showing that he will be the best in his draft class and one of the best big men to play the game. Not to mention that this man is only 20 years old! He looks like he has been playing since the 90's he doesn't even look young. His weaknesses are that his mediocre defensive awareness, prefers to go up for the board instead of boxing out, not consistent running the floor.
The next player is Collin Sexton, I have been watching this young bull since high school and I was not surprised he was the 8th pick. He dominated in high school but college he struggled a little but still managed to average 19 points per game, 3 assists, and 4 rebounds, shooting 36% from the 3. Only played 30 minutes per game and played for Alabama. Collin Sexton looks like a solid 6'2 point guard who has active hands and can really compete defensively and isn't afraid to play physical although he is a score-first point guard. Some weaknesses are that he is too sped up and drives into traffic resulting in a turnover and he has an average height compared to other elite guards. He is a streaky shooter but he can improve his range and be more consistent. Collin has 9 points and 3 rebounds in 18 minutes for his debut against the Toronto Raptors. Sexton is looking to be a solid point guard if he works on his 3 pointers and gets more playing time.
The last player is Trae Young who plays for the Atlanta Hawk and was the 5th pick, he was actually drafted by the Dallas Mavericks but was traded to the Hawks for Luka Doncic who was actually the 3rd pick in the draft. I was very close to putting him in the conversation for ROTY but he hasn't done much to impress me even though he has been cooking defenders and knocking down three's. Trae Young played for Oklahoma and was averaging an astounding 27 points per game, 8.7 assist, 4 rebounds, and 2 steals. He played 25 minutes per game and these look like all-star numbers but he also was averaging 5 turnovers per game and only shot 36% from three. In his debut against the Knicks he played 33 minutes and had 14 points, 5 assist, and 6 rebound which isn't bad and his best game so far was against the Cavaliers where he dropped 35 points and 11 assist in 38 minutes on Collin Sexton who only had 4 points. Trae Young's weaknesses are that he is reckless with the ball too much and gets many turnovers and his comparison Mike Conley that I don't agree with because Mike doesn't chuck up deep three's and gets many turnovers. Trae is a 6'1, 180-pound point guard so he is pretty undersized, but it doesn't seem to phase him.
Deandre Ayton will win ROTY because he is just so talented and physically gifted inside the paint. I feel in a couple years he will be dominating the other big men like Joel Embiid and Demarcus Cousins. He came into the NBA with an NBA body unlike Mo Bamba is tall but he is pretty skinny and isn't as gifted inside the paint as Deandre. Deandre Ayton will be an all-star in 2 years and will be averaging 20+ points per game and 10+ rebounds. He is showing everybody that he deserves to be in the NBA and has shown us how much of a talented player he is all around. Not to mention that Deandre is only 20 years old! This is why I firmly believe Deandre will win ROTY but not without some competition, the season is early and maybe someone else wins rookie of the year but right now Deandre is showing me that he going to win it all.
About the Writer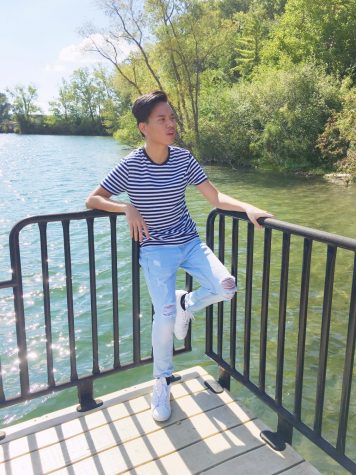 Brian Phan, Contributing Writer
My name is Brian Phan, I am a senior. Some things I like to do are sleep, play basketball, and hang out with my friends. I watch the NBA, my favorite team...