ONEPOINTFIVE: Did it Really "Reel It In"?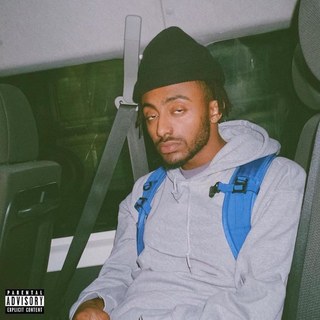 Hang on for a minute...we're trying to find some more stories you might like.
ONEPOINTFIVE, the most recent project out of Portland rapper Amine,  features a significant shift in production, but a similarly silly aesthetic.
From track to track, Amine's second official project ONEPOINTFIVE features the Portland MC covering topics such as how great he is, and his struggles with mental illness. Some tracks even show him flipping seamlessly between the two, putting on full display his versatility as an artist.
Amine's versatility is perhaps his most defining artistic trait. As an artist, Amine doesn't exactly stand out for any one thing. His lyrics aren't the most potent or controversial: they're just good. The same goes for his singing voice(which he pulls out frequently, on tracks such as "RACHET SATURN GIRL"), production choices, and essentially everything else about his music. But, what makes ONEPOINTFIVE worth a listen is the rapper's ability to incorporate all of these aspects into individual songs. Examples of this off of this would be the tracks "SHINE" and the project's closer "TOGETHER" .
Sadly, not every track features Amine playing to his strengths. On ONEPOINTFIVE, whenever Amine featured another artist on a track, he often toned down his own talent to more appropriately fit the vibe the other artist brought. The tracks "HICCUP" with Gunna and "DAPPERDAN" with G Herbo, while they aren't necessarily bad, feature a mediocre Amine backed by two lackluster features. The song "SUGARPARENTS", with Rico Nasty suffers from this as well, although Rico's eccentric personality does a much better job at shining through here than the other two artists did, which makes for a mildly better track.
All things considered, ONEPOINTFIVE features a raw, talented Amine who isn't always operating at full capacity. Backed by basic, trendy  production and mediocre-to-bad features, ONEPOINTFIVE features an artist with infinite potential that just isn't quite there yet.
6.5/10
Nolan's Review
ONEPOINTFIVE was an album that I had been waiting for since the release of Amine's first album, Good For You. I usually prefer to listen to Rock or Metal Music, but those tracks were the first Rap Songs added to my playlists, he just had such a cool sound and vibe that I found myself vibing with almost every song.
Now, ONEPOINTFIVE didn't release for another year after Good For You, and I'm having a hard time really enjoy every single song again. For example, I felt like most songs on ONEPOINTFIVE had really bassy trap beats, something most mainstream Trap artists use to get their fans to move along with the song. I understand how effective this can be for an artist, but it made Amine seem too mainstream, like he had become a bandwagoner. His new song "BLACKJACK" sounds great and rattles your bones like a huge subwoofer, but it doesn't feel as special as the beat his hit "Caroline" or maybe "Wedding Crashers" makes. Those helped me feel very close to what Amine was experiencing, while the songs on ONEPOINTFIVE just want me to, for lack of a better word, headbang.
But, I did feel like the songs captured the essence of Amine's life story. He grew up in Portland Oregon with Ethiopian immigrants as his parents. He went through depression and love that not many others choose to talk about, and both albums really allow listeners to understand what he has gone through. This new album starts with "DR. WHOEVER", which begins with almost a commentary of Amine speaking with a Psychiatrist about his problems growing up, with things like sex and suicide. It certainly reminds me of "Sundays" from Good For You due to the melancholic beat and revealing lyrics, so that certainly helps me enjoy the album more. Sure, the new album certainly makes his love life seem very raunchy and interesting compared to the tender love vibes from before, but it's still Amine, and it's still fun to listen to
So, I think that ONEPOINTFIVE checks out in entertainment factor. Amine incorporates his funny and down-to-earth lyrics with the heavy bass to produce songs that will make you smile and want to be as rich as him. Unfortunately, the songs as a whole don't feel as sincere and unique as Good For You because he sounds like a mainstream Trap Artist now, not a NorthWest influenced Rapper. Everyone should at least listen to the album once, though, because there are some new bangers that you should add to your playlists.
Rating: 7 out of 10