Rebecca Hanson Makes the World a Better Place
Hang on for a minute...we're trying to find some more stories you might like.
Rebecca Hanson is not just any senior at Wyoming High School: she is an incredible, inspirational figure that purely represents the values of this school.  The other weekend, we sat down together with the intention to learn more about her and how she thinks of herself, and, to be frank, she doesn't seem to think about herself often.  She had troubles describing her personality and was unsure of some of her answers. Becca is the type of person that you can't sum up with a few words: you have to know her to understand her.
Becca is 17 and her birthday is December 25th (which is absolutely perfect considering that such a special person would be born on such a special date).  Just about everyone can describe Becca effectively. Thomas Oliver described her as "nice, kind, compassionate…incredibly intelligent and talented." Cora Longoria used words like "determined" and "caring," while Nolan Weatherby gave me "respectful" and "very passionate about what she does."  
When describing her outlook on life, Becca said, "A life should be lived with compassion for other people." She also made a note to say that you need a selflessness/selfishness balance but insisting that even when you're selfish, you must try to be selfless as well: "[you need] a good balance, but make sure your actions are good for other people also."  She followed up with an interesting thought: "Everyone comes from a place of privilege compared to someone else." To summarize; have empathy. "You are so important. Every individual person is."
Family is close to Becca. Her brother Chris truly inspires her:  "[He's the] best person ever: humble, always very kind and he thinks logically through everything.  [He has a] good balance between emotional and logical thinking." She obviously really admires him and adds that "he's not ashamed of who he is at all. He's just really true to himself, and I think it's amazing."
Rebecca started playing the piano when she was ten.  As time went on, she wanted more and more to "be able to perform…but for a cause."  Music has always been something that she loves. Whether it be classical piano from the romantic era or rap.
Aside from sitting in front of the piano she loves the environment and finds solace in the outdoors.
Our school's diversity is something that Becca thinks is extremely important.  "It's the best thing ever…I get to appreciate everything that I have, but also realize that people that seem less fortunate…they have so much…makes me realize that money is not that important."  She said that she could've been placed in an all-white school, but she wouldn't get the same experience that she does here.
Another experience included with our school system is Alpha Wolf, which, last year, Becca won.  "I was completely shocked," she said about receiving the award. "I seriously cried, it was so overwhelming.  [Alpha Wolf] made me care about myself more, love myself more, have more confidence…I'm reminded that I matter.  I didn't think I was a good person. I didn't think that other people thought I was a kind person, I just thought very little of myself.  I've always been really, really insecure and hard on myself and I guess that showed me that it's okay to be who I am, that I'm not a gross…weird person; cause that's how I felt all of my life."  She said that after being selected, she never felt that she had to live up to extra expectations. "It just made me want to be myself more."
Her teachers, past and present, have a lot to say when it comes to Becca.  Mr. Lorenz said that she's "quiet, but engaged," and Retan agreed, saying that "she's reserved yet very engaged.  She's always thinking very reflectively…always asking big questions." They also added things like, "helpful, excellent, caring, committed, kind, thoughtful, generous, and compassionate."  She has also inspired each of them in similar ways: "Her hard work is inspiring. She's been in Key Club for three years and has been a tremendous help. She really wants to make the best use of her time and abilities," said Mr. Lorenz.  "[She] made me reflect on why I love math and how I teach it," said Mr. Retan.
Being a senior, Becca is quickly approaching the end of her school life.  At this point in time, she intends to be a biomedical engineer and attend a college that she has not yet determined.  Along with this, she'd like to play benefit concerts to touch someone else's life. "I want to really change someone's life…make it a lot better and I just want to be able to feel like I've done something that really, really mattered."  In my opinion, she's already done that and more. She's such a great friend and a joy to talk to. She will gladly bend your ear on topics ranging from consumerism and why it's awful, to music theory and how much she loves to play the piano.  Rebecca Hanson inspires me every day to be a better person, a better worker, and a better performer. She is easily one of my favorite people to talk to and I'd like to thank her for allowing me to interview her and fitting it into her busy schedule.
About the Writer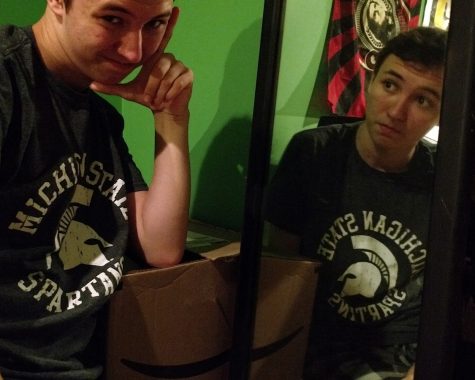 Kaleb Dochstader, Contributing Writer
[Verse 1: Demi Lovato]
I've always been the kind of girl
That hid my face
So afraid to tell the world
What I've got to say
But I have this dream
Right...