New Salem Knows How to Give People a Good Scare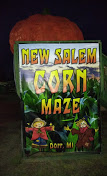 New Salem is the place to go to see people so terrified they end up peeing their pants.
New Salem's residence is in Dorr, MI.
Some weird facts to know about the New Salem people, and what they do. The workers in the corn maze yell "Marco, Polo," to find other workers. So when the people going through the maze decide to reply, the workers use that as an opportunity to follow and or find whoever replied.
Sometimes, if a New Salem worker hears someone say a customer 's name, the workers who do hear this, will start calling out the name, to try and scare the customer even more.
Every year they change things up. For instance, the design of the corn maze changes. Another thing that changes is what's in the witches woods, some parts might be the same, but it still scares people every year.
The New Salem is an amazing place to go to. At the end of the maze/woods, the tractor will bring you back to one of the buildings, where you can find refreshments and bathroom. One time, in the end, they had this photo booth, that when it took a picture it would shake.
New Salem is an extravagant place, they are very different from The Haunt. They are different because, New Salem takes a wagon, and or bus to get to the entrance of the Maze or Woods. The Haunt is in a building surrounded by other buildings, while New Salem feels like it is in the middle of nowhere, making it even creepier.
Day Time tickets
Corn Maze: $7

Paintball during the day will be $15
Night Time Tickets
Witches Woods is $20

Corn Maze $20

Zombie Attack $20

Combos that range from $20-50