Meet the Girls Behind the New Coach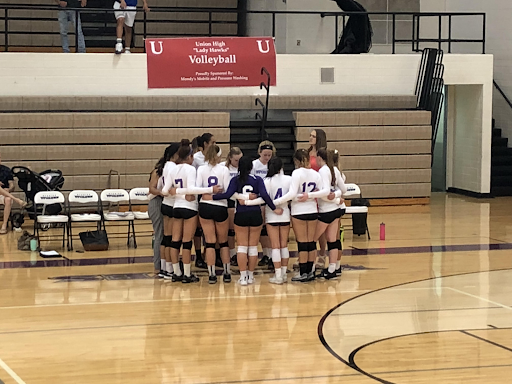 The Wyoming Wolves Varsity Volleyball Team started the season 2-0. This is how some of the girls feel about the season so far with their new coach, Alex Polakovich, and assistant coach, Amie Sheldon.
Coach Alex Polakovich might be new, but she is doing an amazing job so far. "We had a lot to learn, but the girls have come a long way," she says. "They are working so hard and I can't wait to see what's in store."
Taejah Cross, number 5, is going into her sophomore year. This will be her second year on varsity team as their setter, who is in charge of offense. She feels that Coach Alex has already made a big impact on the volleyball team already. As for Coach Amie, she adds a nice addition to the team. Both coaches are liberos, the rearmost, roaming defensive players in the game, which only benefits the team. "I feel that it pushes both of them to work harder than usual," she said. "We have very good team chemistry on and off of the court."
Kelsey Gullick, number 9, is going into her senior year after taking two years off from playing. She is coming back better than ever. When we asked Gullick what she thought about Taejah Cross and Vanessa Martinez being on varsity since their freshman year, she said, "It's good for them and their talents to get exposed to it." We, also, asked her how she felt about there being two liberos and she told us "it's kind of messy but, it makes it so they don't have a limit in playing." Gullick told us Coach Alex is so accepting to the team.
Rylee Walsh, number 6, is a senior returning to the volleyball team as one of the liberos. Her opinion on how it is going with there being two, also their coach uses what they do during practice to determine who is going to play, "It's different. during practice Courtney and I are tied, so it's hard to know who exactly is going to play in the next game," replied Rylee. Her opinion on Vanessa and Taejah was that they work hard and are a great contribution to the varsity team. Rylee also feels that Coach Alex has really made the team better in the time she has been their coach.
Vanessa Martinez, number 13, is a sophomore and this will be her second year on varsity with Taejah. Vanessa is a middle hitter, who is in the middle of the row closest to the net, and has an amazing hit.
For Vanessa having two liberos has been positive. "It's very beneficial, because if one gets hurt you have another one ready to play." The way she feel about her coach is that she is an amazing coach, and she pushes the girls to do their best."The team gets together really well, and they work well with each other." Vanessa said.
Ahnysti James,  number 7, is a senior and this will be her second year on varsity. Her opinion on there being two liberos is "It's very helpful, they don't fight over the spot." When we asked her how she likes the new coach, her response was "She's a really good coach and I like her alot." We asked her how it felt to be a leader on the team and she told us "It feels good to know that people look up to you."
Theodore Hollern, Athletic Director at Wyoming High School,  "Spike it" is his advice for the Girls Varsity Volleyball team. He feels that this year with all the younger volleyball players they are doing really good and work together amazingly. He believes that each and everyone of the girls on the team are really talented and that he can't wait to see how well they do this season. For the coaches his opinion on them is that they are working with the team very well. Holleren has a great feeling about how well the program is growing and can't wait to see what Coach Alex is going to do next to better the program.