Hidden Restaurants of Michigan: Greenbush Brewing Company
Hang on for a minute...we're trying to find some more stories you might like.
Food brings so much joy into our lives. It brings families together, and provokes emotions in people that you can't get them to feel with words. But, our schedules don't always allow for us to make a nice home cooked meal every night, so we must find restaurants that will satisfy us just as well. With this weekly series, we will dive into the hidden towns of Michigan to find those places that stand out for their food and atmosphere, starting with Greenbush Brewing Company.
Michigan has been rising up the "beer chain" in the US, partly due to the success of Founder's in downtown Grand Rapids. Now, towns all over the state have been adding in their own flavors, often pairing certain beers with a dish that is made fresh in the kitchen. Many members of my family are hooked on trying new beers from these breweries, and I go to try the food and check out the atmosphere. And oh boy, did I find an awesome restaurant in Sawyer a couple months ago.
About 20 miles from the Michigan-Indiana border, Sawyer is a quiet little town known for its lumber mill. But, as my father and I stop for dinner on the way home from Michigan City, we see that it is anything but quiet. The town is completely run by Greenbush Brewing Company, since four different buildings had those words plastered on the walls and doors. This company has a taproom that includes the kitchen, a store called the Annex, a venue called the Clean Plate Club, and a food hub located in the local church. Each building has a industrial vibe going on inside, with the inspiration coming from the woodworking skills of the owner.
You will feel right at home when you walk into the taproom, the servers and staff are extremely respectful and give great suggestions on what foods to try. Their motto is "The Best Brisket on this side of the Mississippi," and I hope you will try this first. They smoke all day until it's gone, and everyone goes for the beef first. It pairs nicely with the many sauces made in house, from spicy barbeque to a carolina-style mustard. Trust me, this place is a meat-lovers paradise, and everything will be good.
They are also experimental in other areas of cooking. Bacon is made in house, and used in many different entrees. You can get baked Mac'n'cheese with bacon, or bacon dip, or a great BLT. A special dessert is made every week, designed to be very flavorful with a specific beer. The pizzas are cooked on the smoker, giving them a unique flavor not found at any other restaurant. Greenbush is a funky joint, but it works well and crowds rush to Sawyer to get a piece of the action.
So, take a trip down south. Keep going past the vineyards and small town "family restaurants. It's a longer trip, about an hour and a half from Wyoming, but I promise you won't be disappointed. Your Mom or Dad can try the different stouts and IPAs while you indulge on brisket and pork rinds. Greenbush Brewing Company has a cool story, and your choice to go and check them out will continue to provide the support they need to grow and let even more people experience the power of good ol fashioned barbeque.
About the Writer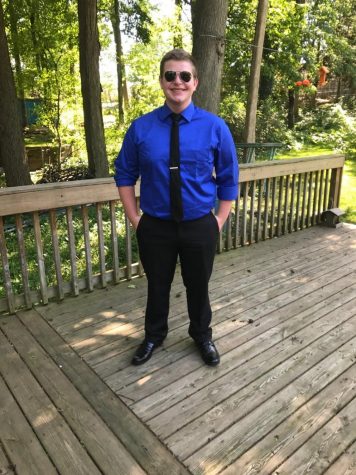 Nolan Weatherby, Sports Editor
Hey everyone, I'm Nolan! Many of you may know me as Nolander, Ranger Nolan, Weatherby, or a plethora of other nicknames given to me by the students and...