Katze's La Musique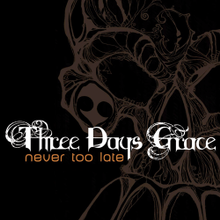 Hang on for a minute...we're trying to find some more stories you might like.
Song: Never Too Late
Artist: Three Days Grace
Album: One-X
Genre: Rock
Year: 2006
My old best friend and I used to listen to this band a lot when we were younger. Three Days Grace was our favourite band, in fact, we used them as a sort of marker for our friendship. When we stopped being friends, I stopped listening to them for a while, the symbolism being too much for me to handle as an over-emotional teenager.
Now, I've read a lot of interpretations about this song, and I have agreed with a lot of them. I believe that the song means that no matter how bad your life is, there is a way you can get out of it; a way to "start over" in a sense. In the music video, a little girl is happy with her parents, they are living in blissful ignorance until a man in a red sweater appears. The older woman in the mental asylum is meant to be the adult version of the little girl from the beginning. She is there because she had tried to commit suicide due to the things the man in the red sweater did to her. The black handprints are showing how many time the man violated the girl when she was young. The black "angel," often mistaken for a demon, serves as the girl's guardian, protecting her from the man with the black paint on his hands (the guy with the sweater). Once the man was defeated, black feathers fall onto the woman's bed, showing her that she was finally safe from him. The "angel" tells her everything will be alright, and "it's not too late, it's never too late". At the very end of the video, she gets up and walks away, smiling, because her guardian had defeated the man in the sweater, and she could finally live the life she was meant to have before the man appeared in her life.