Katze's La Musique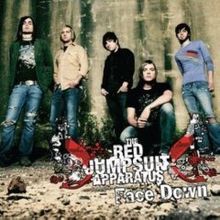 Hang on for a minute...we're trying to find some more stories you might like.
Song: Facedown
Artist: The Red Jumpsuit Apparatus
Album: Don't You Fake It
Genre: Rock
Year: 2008
This song was originally written for Ronnie Winter's mother, who was abused by his father. It shows the thoughts of Ronnie while he witnessed the abuse. This song is about a girl who is in an abusive relationship and feels like she has no power and can't break up with him. "Tells herself it's never gonna happen again." In the story of the song, she convinces herself that everything is okay and nothing bad will ever happen between her and her boyfriend again. The lead singer of the Red Jumpsuit apparatus is saying how it drives him crazy to see a girl that is being mistreated and he can't stand to see her like that, so he stands up for her "do you feel like a man when you push her around do you feel better now, as she falls to the ground?"
I recommend this song. The message behind it is inspiring, and I think that a lot of people can gain something from listening to this song.