Movie Review: I Am The Pretty Thing That Lives In The House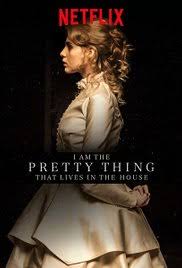 Hang on for a minute...we're trying to find some more stories you might like.
I Am The Pretty Little Thing That Lives In The House, it's a mouth full of a name for a movie, that's for sure. This Netflix movie is a nurse who is hired to take care of an old elderly woman until she passes. Supposedly a horror story of sorts but the movie moves so slow that, even when it builds up to a reveal of a ghost, it's just not interesting.
    The movie follows a hospice Nurse named Lilly (played by Ruth Wilson) as she takes care of an elderly writer in her final years of life. Everything seemingly normal until she begins to notice a certain haunting presence in the house.
The plot wasn't the most interesting except for a few key plot points. But to me, this movie lacked in horror except for feeling dreadfully long and stretched out. Some scenes would show her looking at something for a minute or two and it almost feels like they just do this to make the movie longer, and just blame it as some sad attempt of building dread. And even when it actually built up to something, it was just boring. Halfway through watching this movie I just kind of stopped caring about the story, growing more and more bored with it, it was almost like id fall asleep to this movie just before something mildly interesting happened.
I'm not saying the acting was bad for Ruth Wilson, but it seemed more of a script and director problem if anything. Because, she did try her hardest to make this movie interesting, she just couldn't fix the major flaws in this movie.
Another flaw, that could mean more to others than some, is that the movie's ghost is boring, not even scary at that. Now some of the reviews go on about what she means, and why she looks the way she does. But the movie was trying too hard to stand out from the others and came off pretentious in that aspect.
This movie wasn't completely horrible, it held a good mystery to the plot but overall it lost me at how painfully slow it was most of time. No ambiance or a score in the background, doing that can work out great in the director's favor but it, at the same time is a daring move and left this movie feeling blander. If I had to score it id have to give it a 3.9 out of 10. Most reviewers agree with this but a few like the slow buildup of the movie, I just think it drags on too long.