Katze's La Musique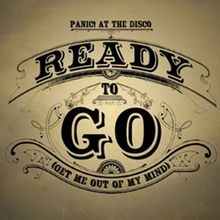 Hang on for a minute...we're trying to find some more stories you might like.
Song: Ready To Go(Get Me Out Of My Mind)
Artist: Panic! At The Disco
Album: Vices & Virtue
Genre: Alternative Rock/ Alternative/Indie
Year: 2011
This is my favorite song by Panic! At The Disco. Since the first time I heard it, I was in love. The thing that caught my attention at first was the beat, but once I listened to the lyrics closely, the song meant so much more to me.
In Ready To Go(Get Me Out Of My Mind) The lines throughout the song contradict each other, so I believe that the story of the song Trade Mistakes, and the idea that the woman was going to commit suicide after her lovers death, travels into this one.
The girl in the story is still having a battle within herself, "I think I'm ready I'm to leave," shows the listeners that she is ready to finally ends things, and "I'm ready to live," shows how she has gotten over things, and wants to start her new life. Also, "I'm ready to go," can go either way, showing death and happiness. and the ¨get me out of my mind¨ can represent her trying to get the intrusive thought of ending her own life out of her head. The song shows her trying to stop thinking about death and start living her life to the fullest.
I think the song was made for people who are going through something similar to what the girl in the song is. People who are struggling to find meaning in their lives, and need a pick-me-up to help them move forward in life.