The Imposter: The Odd Case of Nicholas Barclay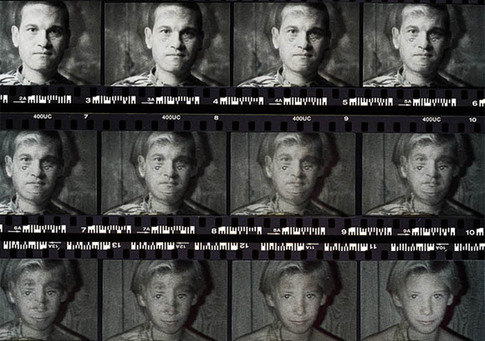 Hang on for a minute...we're trying to find some more stories you might like.
People disappear all the time; however, this time was different when Nicholas Barclay vanished into thin air from Texas in 1994 and reappeared in Spain in 1997.

   The Imposter is a 2012 documentary based film constructed from a real-life horror story. Nicholas Patrick Barclay was just 13 years-old when he suddenly disappeared from San Antonio, Texas. Nicholas lived with his mother Beverly Dollarhide and his older brother Jason Dollarhide at the time of his disappearance. According to Jason's childhood friend Kevin Hendricks, "Nicholas and Beverly seemed very close and you could tell Nicholas was the light of her life. Jason was a bum, a drug addict, and he only cared for himself." Yet Nicholas had also been known to be violent, verbally and possibly physically abusive towards his mother but Kevin quickly added, "When he [Jason] moved in, it made things much worse, I think it even, in fact, pushed Beverly to start doing drugs." Nothing had been going well after Jason's new-found residency in the house but Nicholas had been so troubled so much, in fact, the police had been called numerous times to the residence to calm his aggressive behaviour; seemingly Kevin claimed Jason's presence added oil to the flame. Withholding Jason's company, Barclay had even had a small criminal record for breaking into a convenience store, stealing shoes, and threatening a teacher. He also had three illegal tattoos carved into his skin; the single letter T on his left hand positioned between his thumb and forefinger, the single letter J on his left shoulder, and the letters L and N on the outside of his left ankle.

   The evening of June 13, 1994, Barclay's mother gave him five dollars to go the basketball court at Fort Sam Houston a mile or two down from their house. She evidently remembers telling him before his departure to "be home by dinner and giving him five dollars to go play basketball." When he later called and asked for his mother to collect him from the area, it was Nicholas's brother Jason that picked up. Jason refused to wake Beverly since she worked odd late hours and slept during the day. He informed Nicholas that he would have to walk home. Although when questioned about her son's disappearance, Dollarhide stated, "I thought somebody had offered him a ride and he got in the car… I don't think he would've got in a car with somebody he didn't know." That phone call was the last they'd ever hear from him.

Barclay had run away from home multiple times before but had also come home after a day. Nicholas also had a court hearing on June 14 regarding whether or not he would be able to stay with his mother or be sent to a rehabilitated group home for juvenile criminals so knowing this piece of information, the police were slow to respond.

Three years and four months later, stationed police in San Antonio received a call from policeman, "Jonathan Duran" in Linares, Spain working at a home for youth in October 1997. The police were told the news by Duran that Nicholas Barclay had been found alive and in a relatively healthy state. Barclay had apparently escaped a child sex ring operation run by high government officials and European political officials, and it was believed that he was abused for the last three years of his abduction. During his hostage in Europe, he had learned French and a bit of other based European languages but could still speak English.

The news broken to the family was taken well, they were overjoyed even. Carey Gibson, Barclay's older sister, had even recalled the situation saying they were ecstatic and bewildered.  Gibson, then flew to Spain to identify him claiming that she hadn't slept for days and was incredibly nervous to do so. It was said that he kept inside of his room for a small portion of time; afraid Carey wouldn't recognize him, however, to his surprise and major relief, she confirmed it was her 16-year-old brother.

Being told Nicholas had very little recollection of his memories, Carey sifted through family photos. Showing him many different photos including family, a couple ones of him young with friends and even included the house he used to reside in before his disappearance. With his memories coming back (and asking Carey if his grandpa was still a jerk), Carey was sure this was her missing brother. Before being sent home though, officials needed definitive proof that he was who he had claimed to be. Sprawled about on a table in front of the judge, case worker, and police officer, were five pictures. He had never seen the photographs before but knew of the people in the photographs, seeming to be relatives of some sort. All he had to do was simply identify them and he and Carey would be on a flight back to Texas first thing tomorrow morning. After correctly pinpointing four relatives, he passed with one mistake. It was then that officials had also confirmed he was Nicholas Barclay; the young missing boy from San Antonio, Texas.

His family was over the moon with having him back but there were some suspicions. How did Nicholas's crystal blue eyes shift to a murky brown colour? How did his platinum blonde hair shift to a darker dusty blonde shade? Why did he speak with an abnormally distinct French accent? His personality was different as well; he was very skittish and jittery. He didn't like to be touched, he was abnormally quiet as well. He blamed his personality alter on his kidnapping and hostage. He also claimed the hierarchies running the sex ring chemically altered his hair and eyes to make him unrecognizable. His family believed him and blamed his standoffish behaviour on the atrocities he experienced throughout his abduction. They had also blamed his accent on being held with various different languages being spoken in the ring he had picked up somehow.

Distant friends and family had their own suspicions though. Special agent caseworker, Nancy B. Fisher even recalled the statistics of a missing child showing in another country, "When a child is missing for years either the child is dead or not found and to be found in another country is extremely rare." However, regardless of all suspicions floating throughout the media and such, newscasting wanted an interview with supposed Nicholas Barclay regarding his almost four-year disappearance. The company hired private investigator Charlie Parker to keep a close trail on Barclay and convince him to follow through with the interview. Nicholas agreed and the interview was set in North San Antonio. During the interview, Parker noticed a picture of thirteen-year-old Barclay and compared the two in his mind and noticed how just how divergent the two looked by one another. Charlie quickly snatched the picture and compared the two pictures (one of 13-year-old Nicholas and one from the interview with 16-year-old Nicholas) in Adobe Photoshop. Parker recalled a technique used by popular investigators saying, "ears are almost like fingerprints; they're a means of identity." Parker then compared the two and found the eerily sinister conclusion, that was not Nicholas Barclay. Parker had found they were two entirely different ear shapes, they had been nowhere near similar; thus revealing the ugly truth.

Parker had quickly informed agent Nancy Fisher but she had versed him that it was important to not interfere with such a case. Fisher then decided to fly with Nicholas Barclay to Houston, Texas to consult with a doctor approves Barclay's abductees at the Texas Children's Hospital. During the Forensic interview, Doctor Bruce D. Perry took notice of Nicholas's thick French accent and immediately knew something was wrong. Doctor Perry noted he was not seeing the same physiological changes in which a traumatized person would go through, his posture remained the same, his heartbeat remained the same, his pupils did not dilate at least one, and he was not sweating in the slightest. These signs raised red flags in Perry's mind. The Doctor also knew he could not speak English without an accent and knew for a fact that no one could be raised for the first six or seven years of their lives in an English speaking home and later on, eight or nine years later (ten years even), and not be able to speak English without an accent. He realized that this kid, whoever he was claiming to be, could not have been raised in an English speaking home as he claimed to be. He firmly believed that the person he was interviewing could not have been Nicholas Barclay.

Doctor Perry having shared this information with Fisher, she immediately informed Carey of the newfound knowledge to which Carey found incredibly heartbreaking and struggled to find words. Fisher strictly told her to not meet them at the airport so she could deal with the unknown imposter. Disbelievingly, Carey disobeyed Nancy's wishes and showed up at the airport; continuously advising the Nicholas Barclay hoaxer that everyone had missed him. Fisher was in clear astonishment, she could not believe the fact that Carey had exactly shown up when she distinctly notified her to completely avoid showing.

After the weird run-in with Carey, Parker took the supposed Barclay out to breakfast to discuss a couple things with him. During the discussion, Parker addressed him, "You really made your mother angry." He didn't even think to prepare himself for the next few words that left 'Nicholas's' mouth, "She's not my mother and you know it." Utterly baffled Parker questioned him, "Who are you?" Barclay stared for a second and responded, "I'm Frédéric Bourdin and I'm wanted by Interpol."

So now meet Frédéric Bourdin, the 23-year-old French-born con-artist who has taken on 500 (confirmed) identities, three of which were missing children including Nicholas Barclay. Interpol is "the highest level of authority in the "police world," as described by Parker so obviously this frightened him knowing Bourdin was wanted by such a serious hierarchy. As discussed in the film by Frédéric himself, he enlightens the audience on why he did the crime because I'm assuming the big question here is why. Why did he do it? Why did he pretend to be someone else? A missing child at that as well? He informs on how growing up, he felt like there was never much love in younger years, his mother was just 17 years old when she gave birth to Bourdin. His father an Algerian man which never settled well at all with his racist grandfather, he later tried to set an abortion appointment for Bourdin's mother to rid of him. "As long as I can remember, I wanted to be someone else," he shared from his perspective, "nobody ever gave me a childhood because to give a kid a childhood, you had to love them."

Starting fresh, Bourdin revealed why he did everything. His reasoning: there was never much love when he was growing up and so he believed, "nobody ever gave a damn about me and to know that if I change my identity the reward would be that someone would eventually care about me and hell yeah… I was born again, I was reborn." One rainy dusk night, Bourdin decided to set the plan into action. He was calling from a dirty telephone booth posing as a family man with two children in Spain as tourists. He described the false child, "he looks about 14/15… He has no I.D, no documents. He looks very scared and I think you should come help him, we offered him food but he doesn't want it." The police sent a patrol car within ten minutes and found a dark figure inside the booth. He remembers the acting he went through to achieve the act, "they had a kid in front of them, not an adult so I had to act like one… I wanted to provoke a sense of guilt." With shaking arms, the police officer lifted Bourdin up and set him in the vehicle, transporting him to the local station. During the time period of endless questioning at the station, Bourdin wasn't letting up so authorities decided to send him to a children's home for the time being. "They would have to put me in a children's home [because I wasn't talking much] and that was all I wanted." After a couple of days in the children's home, Bourdin still withheld any information he knew so the authorities informed him, "they were going to have me fingerprinted and have my picture taken and I couldn't have that so I had two options: one, go to prison or two, prove to them that I am someone." Frédéric convinced them with incredibly minimal and vague information. He was American and he had been kidnapped. Later that night he told the staff that he wanted to communicate with his family by himself, he wanted to contact them on his own terms. They then agreed and Bourdin evoked the recollection of the memory, "I phoned different police stations in the states, I told them everytime that there was a policeman from Spain called 'Jonathan Duran' and that we had found a kid, we're sure he's from the states but we don't know where he's been maybe missing for three years and someone has been looking for him." Soon Bourdin had all the information he needed, there was a 13-year-old kid missing from San Antonio, Texas for about three years and his family was searching for him. He was faxed the black and white 'missing persons poster' and something inside Bourdin persuaded him that he could pull this off entirely. Bourdin then contacted Carey Gibson and introduced himself again as 'Jonathan Duran' and filled her in on the situation. Carey was obviously very emotional and shocked but relieved. "I washed her brain…" Bourdin recounts.

The next day Bourdin was informed by staff that his sister would be coming in roughly two days. Bourdin attempted to run away but staff had found him trying to hitchhike on the streets. Later that day, the Special Agency for Nationally Exploited Children sent the home care a package containing a full-colour picture of what Nicholas looks like and any information needed. "[The Center for Nationally Exploited Children sent me a flyer] and I seen what Nicholas really looked like, with colour and everything, he was very blonde and had very blue eyes… He looked nothing like me, nothing! The only thing he had in common with me is that he had five fingers on each hand!" Bourdin seemed flabbergasted even simply thinking back on the memory. Bourdin was almost positive he was going to get caught, "I said… let's burn myself [burn the picture], so I burned the flyer and if I could have the identity, burned all the words that had come out of my mouth the past few days… I would've burned those too." 24 Hours later, Bourdin was told that American Ambassadors were traveling to Spain to figure the odd situation out and decide what to do with 'Nicholas,' Bourdin couldn't begin to fathom what he was going to do. "I couldn't do anything, the only thing I could think of was what the prison I was going to be at was like…" When the representative showed at the children's home, he had discovered that Nicholas had disappeared, he had run away. Not too long after, the ambassador and staff from the Linares center found him. After being returned to the home, the ambassador confirmed that he was an American child missing from his home; he confirmed it was Nicholas Barclay.

The next morning, the director of the shelter informed Frédéric saying, "well you must be happy, your sister is on the way!" Bourdin didn't understand what he meant and the director reworded his phrase, "your sister from San Antonio, she's on the plane and she's coming to get you." Scared out of his mind, Bourdin quickly tried to fix his appearance before Carey touched down on Spanish soil. He bought blonde hair dye and found a girl that did small tattoos in the shelter; perfect for the type of tattoos that Barclay owned. Now locked in his room, Bourdin slipped on a pair of sunglasses and a hat.

Couple hours later Carey arrived at the home and despite the nerves washing over him in tsunamis, everything went pretty smoothly. Carey was very convinced by this act; however, he had to convince the authorities as well with the method of identifying family photographs. As stated previously, he made a mistake on the fifth photograph, "I made a mistake but it was too late, she [the judge present] was already convinced that I was Nicholas Barclay." It was true, they were all convinced this was Nicholas Barclay because who else could know all of the information he knew and not be Nicholas Barclay. Bourdin added, "if you ask me did Carey believe I was her brother and I would say no, she didn't believe for a second that I was her brother… She decided to make me her brother." Without wording his thoughts, officials then took his photograph, gave him a passport and sent him home with Carey the nest day. Arriving home also went smoothly, everyone had expressed how much they had missed him in tearful hellos and loving hugs. They were jolting with excitement as they could finally hold their missing loved one.

A couple weeks had passed and Bourdin kept up the act with little to no suspicion within the immediate family. Within those few weeks, Jason visited the family and he didn't seem to care that Nicholas had been returned. "Jason came to see me and he didn't look at me like Nicholas and he didn't treat me like Nicholas… he said good luck to me and he left." Having said the encounter with Jason, Bourdin was quite shaken and decided to ignore him and keep up the act seeing as Jason hadn't visited anyone in the family much to cause a rip in the façade.

A couple more weeks later and the televised interview was to take place, "I wanted to attract the media to make Nicholas more believable," Bourdin shed. In a way the interview did work and more people believed the fabricated lies but it also leads to the discovery of Bourdin's true identity. As the lies kept unraveling, Carey and Beverly refused to believe this was true.

Few days passed and Fisher wanted Dollarhide to participate in a blood sample test to unfold whether or not this was Nicholas Barclay. Beverly wasn't too keen on the idea though, according to Fisher who ultimately conducted the study, Dollarhide shot down the offer quickly and acted very bizarrely, "this is my son, I don't want you to take blood samples or anything." She then proceeded to lie on the floor and say, "no, you can't pick me up and you can't make me." Everyone was obviously unbelievably baffled by her strange behaviour. "She wasn't apathetic, she was hostile," Fisher spoke of the incident that took place nearly 17 years ago (as of 2012). Carey expressed her opinion on why her mother acted so oddly, "we didn't need proof of who he was, we knew who he was [Nicholas Barclay]."

Not soon enough, the staggering news broke to the family that the one who they thought was finally returned after three painful years, was not Nicholas Barclay at all as they believed. It was Frédéric Bourdin. "No one would be wrong about something like that," Fisher divulged. Despite knowing this person was not their family, Dollarhide and Gibson repeatedly tried to let him stay as an addition to their family. Yes, they actually tried to keep Bourdin as Barclay in their family, denying the factual evidence that this man was not Nicholas. "I no longer seen them as a grieving family, I seen them as a very questionable family with no reason of accepting a stranger into their lives unless there was something to hide. Something was being hidden and I didn't know what it was." Fisher further explained her thoughts. Bourdin knew of something as well while living with them for those five months, "I wake in a place where the lies are bigger than what I did."

Two months prior to Barclay's disappearance, Jason had phoned police officials to say he saw Nicholas attempting to break into their garage and investigator Parker believes this was a hoax because "people do this all the time to make it seem like that person is still alive."  Parker, Bourdin, and Fisher strongly believe that Beverly and Jason had something to with Nicholas's disappearance. Parker knew something wasn't right here, "I started putting two and two together and something happened inside that house to that boy." Bourdin also added his two cents in on the situation, "it didn't take long to put all the pieces together… They killed him. Some [Barclay's family] of them did it, some of them knew of it, and some chose to ignore it."

Frédéric Bourdin was sentenced to six years in jail for perjury and fraudulently obtaining a passport. October 2003 Bourdin was then deported to France and three months later he tried to assume the identity of missing 14-year-old Leo Balley. Bourdin now lives in France with his wife and four children. While imprisoned, Bourdin officially made a claim and contacted San Antonio police informing them that Beverly and Jason killed Nicholas and hid the body. Bourdin believes Nicholas is buried at the residence he lived in before his disappearance. A homicide investigation was opened but was later closed due to lack of evidence.

However, Fisher conducted a polygraph test for Dollarhide regarding everything about Barclay's disappearance, etc. Beverly passed the first two times and Fisher believed this couldn't be correct so she made Dollarhide take another. Her third time went tremendously horrible, she failed every single question. The polygrapher joked that the machine practically jumped off the table by her lies. Her answers appeared to be false on every question, she knew where her son was, she knew what happened to him, etc,. The polygrapher questioned her and that's when she became very agitated. She then fled the room.

Nicholas's childhood homeowner allowed Parker to go to the home and excavate to see if there was any possible evidence of a body, bones, etc. The homeowner did recall a time where when they had initially brought their dog home, it would continually move to the top right corner of the backyard and wouldn't move at all at times. He also remembered a period where he was mowing his backyard lawn and the mower had fallen into some type of depression in the ground in the right side corner. He had spotted a piece of plastic material jutting from the ground. He attempted to pull on the plastic but according to him, it kept ripping and he never succeeded in seeing what was planted in the dirt under the material.

As previously stated, the homicide case on Nicholas Barclay was closed for the lack of evidence and Nicholas is still listed as a missing person.

The Imposter is such an amazing documentary any true crime lover would absolutely adore. I know I've been obsessed with it and I can only hope more people are exposed to these types of harrowing cases, it could raise awareness and maybe even return some home.