Susan Powell Case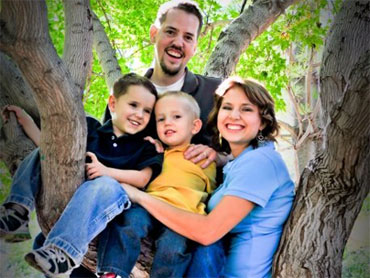 Hang on for a minute...we're trying to find some more stories you might like.
We all believed in monsters as a kid; gross large creatures with protruding razor sharp teeth and matted fur. We know now that they don't exist but sometimes the monsters aren't fictional characters made up from our adolescent years, they turn out to have pale skin, a beating heart and a deranged mindset; and Joshua Powell was one of those monsters.
Susan Powell was an American woman from West Valley City, Utah who disappeared December 6, 2009. She was a mother of two young boys, Charles Powell and Braden Powell, and was a wife to husband Joshua Powell.
Joshua and Susan married January 20, 1976, in Portland, Oregon and later moved to Utah to flee from Joshua's predatory father. They had been residing in West Valley City in Salt Lake City, Utah and by 2008, the family already had numerous problems. The issues included marital discord (Susan involved many emails sent to friends indicating the situation), Joshua filing for bankruptcy for over $200,000 in debts, his unsettling, controlling behaviour, and perhaps more problems than officially noted. Later, Susan had been expressing fears on her marriage towards her friends; filming a video in July 2009 saying the statements, "I want it documented that there is extreme turmoil in our marriage." She also threw in the dialogue, "if I die, it may not be an accident, even if it looks like it."
Morning of December sixth, Susan, Charles, and Braden had attended church and a neighbour recalled visiting them at the Powell residence before leaving around five p.m, the day she was last seen alive. The next day, the entire Powell family was initially reported missing by family members. Joshua's mother and sister went looking at the home after being informed that the children were not dropped off at daycare. They had then phoned the police after failing to make contact with Susan and Joshua. When officials arrived, they broke into the home; fearing they'd been exposed to carbon monoxide poisoning yet only found two single fans blowing air on a seemingly wet spot on a carpet in the house. Susan did not show up at her job at Wells Fargo Financial later that day; however, her car, phone, and purse were all left at the home. A couple hours later that evening (around five p.m), Joshua showed at the home and informed police that he left Susan sleeping at the residence shortly after midnight, and had taken his children on a camping trip to Simpson Springs Campground in Western Utah. The police noted how suspicious Joshua was acting, claiming he wasn't at all concerned with his wife's whereabouts or welfare. When returned from the "camping trip," Joshua promptly called into Susan's Regularly chiropractic sessions and cancelled the appointments and later withdrew his children from daycare. A couple days before the trip, Joshua had been questioning co-workers on whether or not they knew how to hide a body (in an abandoned mineshaft near an isolated desert of Western Utah).
Almost immediately, friends, family, and officials deemed Susan's disappearance as suspicious and began investigating. Upon investigating, a couple of the findings included discovering traces of Susan's blood on the carpeted floor, life insurance policies on Susan for 1.5 million and a distressing letter from Susan detailing her fears for her life and of her and Joshua's troubled marriage. Blood samples were taken from the home and one matched Susan but another matched neither Joshua's nor Susan's father, Charles Cox's DNA. It was confirmed the blood source came from an "unknown male contributor."
Clearly taking notice of Joshua's extremely bizarre behaviour, police decided to question he and his eldest son, Charles. Charles did, in fact, confirm the abnormal camping trip but had stated however, that Susan did attend the outing. Charles did state that Susan did not return though. A couple weeks after Susan's disappearance, a teacher had reported that Charles had informed her that his mother was dead. Susan Powell's parents had also stated that several months after Susan's disappearance at daycare, Braden drew a picture of a van with three people inside and had said that "mommy was in the trunk."
As the investigation went on, officials said that he grew increasingly uncooperative with investigators. On December 18, 2010, Joshua plucked his children and moved to Puyallup, Washington to stay with his father for the holidays. By December 24th, Joshua was officially considered a person of interest. January 6th, he returned to Utah with his brother to gather the family's things; he would be permanently moving to Washington in the next few days and rent out his previous home in Utah. Joshua decidedly lived in Puyallup in the same house as his father and family (his father, Steven Powell, two brothers, and his sister). It was claimed that Joshua returned to Washington because he had lost his job in Utah. Early 2010, Joshua's father and Joshua himself had proclaimed that Susan had abandoned her family due to mental illness issues and had fled with another man. Susan's family had publicly rejected these claims because it was unsupported by factual evidence.
September 14, 2011, authorities dispatched from Utah found what was believed to be a gravesite of some sort with human remains while searching Topaz Mountain near Nephi, Utah; an area Joshua was very familiar with having visited the location multiple times as a camping site. An excavation was performed on the site and was find to house no human remains although recent soil disturbance was noticed. Shoveling a few feet down, officials found nothing. Federal Anthropologists had also ruled out the possibility of being an ancient gravesite. Authorities announced previous to the excavation they had located remains on the mountain and because they didn't find any officials couldn't offer explanation for the now public information. They claimed to have simply followed the detection dogs.
Steven Powell was arrested September 22, 2011 on charges of voyeurism and child pornography. He had secretly filmed many young girls without their knowledge including Susan Powell.
Susan's father filed for custody of the children and was granted temporary custody of the children. The court stated that if Joshua wanted to regain custody of his children he would have to move out of the home he stayed in with his family. Joshua then rented out a home in Graham, Washington to comply with the court's requirements. Authorities later discovered that he never actually moved into the rented home, he made it appear as if he did; he had continued to reside in the home his family was living in.
Late January 2012, a recommendation was made for Joshua and his children; a social worker would visit them often as he would have visitation with Charles and Braden. February 5, 2012, the social worker phoned 911 after bringing the children to the supervised visit because she witnessed Joshua gripping the children and yanking them inside. The social worker was then locked out of the house. Not long after, the house exploded and both the children and Joshua were killed in the explosion. Authorities treated the case as a double murder-suicide seeing as the act was deliberate. The official cause of death regarding Braden and Charles was carbon monoxide poisoning although both boys had significant injuries to their heads and necks, seen as chopping injuries. A hatchet was recovered by Joshua's corpse indicating he had murdered the young boys before the smoke suffocated the home. The fire investigation was shown that there were two five-gallon tanks of gasoline found on the land. Friends and family communicated with officials to say that Joshua had contacted them seven minutes before the incident to say his goodbyes.
Joshua's brother Michael Powell later ended his life on February 11, 2013.  Police questioned him several times regarding his car being parked in a junkyard knowing Susan's disappearance happened (at the time) several weeks ago. It is widely believed that Michael and Joshua were accomplices in Susan's disappearance.
Susan Powell remains as a missing person but knowing Charles's and Braden's fates, it is generally believed that she was murdered. There are ongoing calls to have Susan declared deceased with the cause being a homicide.