The Cloverfield Paradox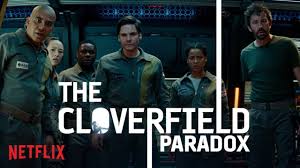 Hang on for a minute...we're trying to find some more stories you might like.
The Cloverfield Paradox is the third movie in the series. And much like the other movies, this one brings up more questions than answers, adding to the universe it has created for itself and to the many online theories around it.
This one much like the others change it up, the majority of time being spent in a space station. It's crew attempting to help with the major power and resources problem with the help of the shepherd. The shepherd is a developed particle accelerator that is thought to be able to develop boundless energy but at the risk that it could tear through the fabric of time and space.
Personally, I really enjoyed the movie, being an avid fan of the other two movies, even if the shaky handheld pov cam of the first was disorientating. The actor Gugu Raw is more or less the main actor, and she does a good job at it. Not amazing or mind-blowing but does it well. As well as the other cast.
Let me talk about the problems first. This movie doesn't always have as much tension as the second movie but it does carry this feeling of mystery through the whole film, leaving small puzzle pieces in it that lead to the larger story and mystery of the series. The acting for some of the characters in this movie also leaves something to be desired. Like the lead it's definitely serviceable but nothing amazing. Some of the scenes in the movie where also kind of funny and random in general. Other scenes were just pointless and didn't have a reason to really be there.
Now good things, cause there is a lot to like. The story and the new set of the story are very interesting, and I've always loved Syfy so a setting like this is always nice to see if done well. Another thing would be the mystery of the film, ever so intriguing to how and why theses Cloverfield monsters have come into existence. Another great thing about this movie is that it's on Netflix, watchable anytime.
Now all in all the movie was more than adequate to me, some things in it that I didn't like too much with some pointless scenes and other ones that took from the atmosphere of the movie a bit. So I have to say it's at least a 6/10. So if you liked any of the other Cloverfield movies then it is more than likely that you'll enjoy this one.