Do Violent Video Games make People Violent?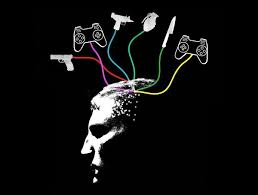 Hang on for a minute...we're trying to find some more stories you might like.
It is in common thought that violent video games can have an impact on a developing child or any person in general. Rather if this is true or not is still up for debate with one side claiming violent video games is just another way to pass time and does not influence the player in any way in real life. But the other side would beg to differ.
A lot of us have heard of Grand theft auto before, any of the games in this series is known for its senseless violence and its almost absurd action, but could someone really believe that this could influence a stable minded person to commit murder? ZME science.com would claim that games like these would have a level of influence on the player, referring to a total amount of 300 studies from various sources that have leaned in the direction that violent games would affect the brain. The only problem is that a large majority of these studies are filled with inconsistencies and errors in their conduction of the experiment.
One point made on ProCon.org is that the percentage of kids who have played M-Rated games in elementary school have gotten in more fights then ones who have not played M-rated games. Leaving it to the interpretation that the kids playing M-Rated games have caused this behavior. But at the same time, a article founded on the same website cites that even though the selling of violent video games have risen 204% from 1994 to 2014 that juvenile crime has also fallen 37%. With juvenile murders also going down 76% between 1994 and 2014 it looks to contradict the other data.
As the article put it. "Many studies failed to control for factors that contribute to children becoming violent, such as family history and mental health, plus most studies do not follow children over long periods of time."(procon.org) The idea that a violent video game could make someone violent makes you wonder why haven't more kids acted out in violence or attempted to commit a school shooting when a majority of kids have played a violent video game.
In the court battle of Brown Vs. Entertainment Merchants Association it was stated that video games could not effect a stable minded person in a negative way. Although It is found as a general consensus with 69% of parents and 90% of pediatricians that violent video games cause violent behavior in kids.
In personal opinion, I must say that violent video games do not make people more violent. I often play my share of violent games and have played with a great number of people. Although they might get angry in game or at the game, they don't take that anger or any of the violence from the game to real life and know the difference between video game and real life very well. In Fact, some of the most relaxed people I know play games like Call Of Duty and things like this. But a violent video game might have an effect on less mentally stable persons but at that point, any kind of violent media could affect them.
But no matter what the opinion is on video games, they will be around for better or worst. And, will most likely continue to be a thriving industry and community.