The Foreigner Movie Review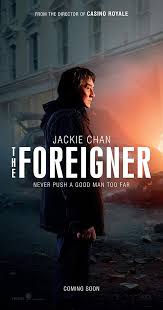 Hang on for a minute...we're trying to find some more stories you might like.
Jackie Chan, if you're anything like me, hearing that name makes your mind shoots to numerous B movies with Jackie Chan jumping from building to building punching dudes in the face, action first, and story practically non-existent. But that's what his movies were when he was younger, and I loved a lot of them. Jackie Chan's enthusiasm seems unmatched, all his stunts done by himself even after a serious accident or such from a stunt and his martial art often being hilarious and ranges from hitting people in the face to dodging knives with a simple wood ladder. But in the movie, The Foreigner, the tone of his conventional acting people have come accustomed too has changed to a more serious gritty tone.
The premise of the movie is how Jackie Chan's character Quan loses his daughter in a terrorist attack. Where this movie could've ended up like another taken copy, it sticks to a more serious plot going into the serious effects of a terrorist attack. Even showing the effects the situation has on Quan, this man losing one of the only things he really loved in life, the need for revenge is most definitely right in this plot. But to a surprise, the movie was much more political then one would think, it could be seen as dragging the film down in quality regarding that this is a Jackie Chan movie, most people were expecting ridiculous fights and stunts, there is a bit of that to an amount but the movie decides to show just how old and desperate this man is for losing what he loved dearest.
The movie's problems are obvious at times that the movie has trouble combining a normal revenge thriller with a political one, leaving the movie boring at times or just off in general. In personal opinion, it would have been nice to see it as an action movie, with Jackie Chan's normal acting but I have to say this was definitely a refreshing role for Jackie Chan. His acting was very well done, saying he's a veteran at acting that is to be expected of him but the movie's antagonist played by Pierce Brosnan.
Not to say this movie isn't enjoyable because it is a good movie. Just a bit lackluster at times. Moving slow and can seem Jackie Chan is rarely in the movie at times or out of place with this newfound seriousness. But if a serious movie like this isn't your style there is a slew of better Jackie Chan movies out there with all the needless action you could ask for and knows exactly what it is, unlike this movie.
Review numbers from online:
Rotten Tomatoes: 59%
Roger Ebert: 1/4
IGN: 7/10